Airport City is taking off in two exciting modes: the first offers you the chance to build a modern airport, and the second has you build the city to support it.
Goals in Airport City Android App:
– Build hangars and runways
– Send planes to the far corners of the globe
– Increase your level to unlock new destinations and buy new types of aircraft
– Import rare items from far-off lands
– Complete collections and exchange them for bonuses
– Organize last-minute daily charters for tourists
– Complete tons of quests for the characters you meet
– Receive exclusive gifts as rewards for passing themed quests
– Build your own unique jet-setter city
– Collect profits from commercial buildings and upgrade the infrastructure of your metropolis

Game Features:
– Beautiful graphics and high-quality sounds accompany every action
– Simple interface and engrossing gameplay
– Convenient tutorial and help features
– Lots of colorful characters, each with their own interesting story to tell
– Dozens of commercial and residential buildings as well as decorations
– No advertisements
– And the best part: it's completely free!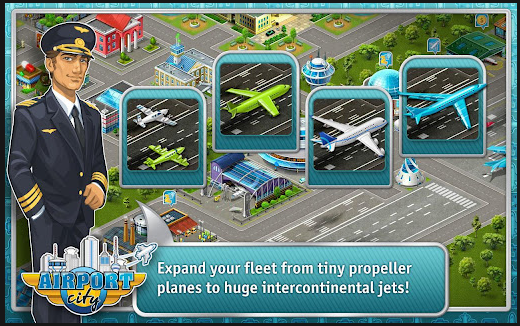 What's in this version of Airport City Android App:
– A new industrial building has arrived.
– Use Fuel Station to produce additional fuel
– Upgrade it to fulfill all your fuel reserve needs.
– Number of stars required to unlock new flights has been dramatically decreased
– Take a tropical paradise vacation and acquire mystical Moai Statues!
– Look for flight maps to Polynesian isles in Duke Crooker's Airship Store.
– Build a Baggage Hall to take care of guest planes a lot quicker!
Airport City Android App is one of the Best Android Application for city building on your android mobile. This free android application is last updated on 25 July 2014 & is currently trending under arcade & action android apps with 5,000,000 – 10,000,000 installations since its launch.
The version and space this android app will require depends on the android version installed on your device. This free android application is rated 4.5 with 403,851 reviews & can be downloaded free from Google play store.