Battery is a small, sleek and elegant android tablet app. Download this app for free and follow the current level of battery percentage on your Android device and this app also serves as a battery saver.
Features of battery indicator :
– Displays battery information in percent (%)
– Supports all Android devices – from Android 1.5 mobiles to Android 4.2 tablets
– Full support for all known screen resolutions
– Power source indicator
– 1% increments of battery level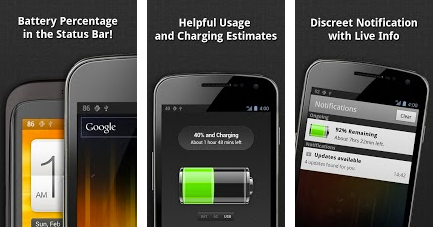 Additional battery related information maintained by battery app :
– Temperature
– Voltage
– Health status
– Technology
What's new in this version of Battery Saver App:
– Show battery current on some devices. Battery current is updated every 3 seconds.
– Improved twitter sharing

Battery is one of the Best Android Application for Battery Saver for Android tablet. This free android application is last updated on January 30, 2013 by the developer. The latest version of this android app is 2.2 and requires ANDROID version 1.6 and up to be installed on your android device. This best android app is currently trending in Android Market under tools android apps and has 10,000,000 – 50,000,000 installations since its launch.
This android app will require approx 1.7M of free space on your device for installation. This free android application is rated 4.7 with 320,508 reviews in google android market at the time of writing this post. You can download this free android app from Google android market.