Download the most loved blogging platform WordPress on your android phone for free. WordPress for Android is an Open Source app that empowers you to write new posts, edit content, and manage comments with built-in notifications. Download it now and get blogging in no time.
Now get the power of publishing in your hands, making it easy to create and consume content and get inspired with great posts in the Reader. What's more? It's open source.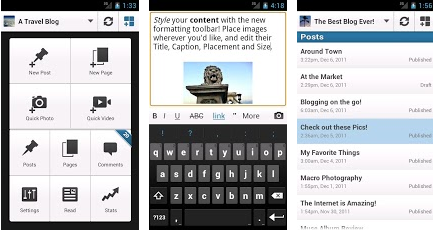 WordPress for Android supports both WordPress.com and self-hosted WordPress (3.5 or higher) blogs. WordPress Android Application is the Best Android Application for managing your blog on your android mobile. This free android application is last updated on January 30, 2014 by the developer. The latest version of this android app is 2.2.7 and requires ANDROID version 2.1 and up to be installed on your android device.
What's in this version of WordPress Android Application:
– Reliability improvements
– More help messages added
– New Reader experience.
– Redesigned blog setup.
– UI improvements.
This best android app is currently trending in Android Market under social android apps and has 1,000,000 – 5,000,000 installations since its launch. This android app will require approx 1.4 M of free space on your device for installation. This free android application is rated 4.2 with 28,813 reviews in google android market at the time of writing this post. You can download this top android app from Google.