Download Wolf Toss Android App for free and have a blast destroying pig huts, houses & mansions as the Big Bad Wolf! This android app will keep you engaged with addictive levels.

Aim of the Wolf Toss Android App :
– Guide the Big Bad Wolf in his battle against the Three Little Pigs in Zipline's challenging new physics puzzler Wolf Toss.
How to Play Wolf Toss Android App :
– Shoot from cannons, explore huge levels and circumvent towering defenses that go way beyond hay, sticks and bricks. – Use strategy and power-ups to burn, roll, float, blast
– Teleport your way past rubber walls, moving platforms and spinning propellers to delicious victory.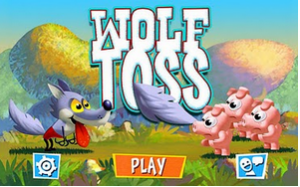 Wolf Toss Android App has :
– 144 unique levels
– Three game worlds : Forest, Cave, and City
– Easy, Medium, and Hard difficulty levels
Tip : Try your luck on the Cheat Wheel to gain a really unfair advantage , if you get struck somewhere.
Wolf Toss Android App is one of the Best Android Application for your android mobile. This free android application is last updated on January 24, 2012 by the developer. The latest version of this android app is 1.3 and requires ANDROID version 2.2 and up to be installed on your android device. This best android app is currently trending in Android Market under arcade & action android apps and has 500,000 – 1,000,000 installations since its launch. This android app will require approx 19 M of free space on your device for installation. This free android application is rated 4.3 with 2,245 reviews in google android market at the time of writing this post. You can download this best android app from Google android market.