Winamp Android App is the ultimate media player app for Android device. Play, manage and sync music from your desktop to your Android device. Winamp for Android offers a complete music management solution (2.1 OS & above) featuring wireless desktop sync (Winamp 5.6 required), iTunes library import, & access to thousands of internet radio stations with SHOUTcast.
New Features in Winamp Android App :
* Additional Free Music – listen to the newest releases with Full CD Listening Party
* SHOUTcast now available on most Android 2.1 devices
* Streaming playback now powered by a new native Winamp media engine
* Updated SHOUTcast Featured Station List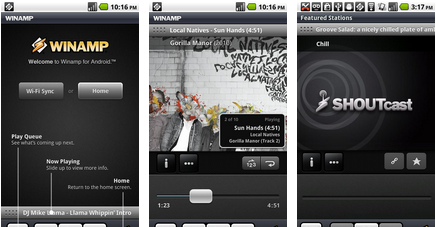 Other Features of Winamp Android App:
* One of the top 5 android app for music
* Wireless & wired sync with the desktop Winamp Media Player
* iTunes library & playlist import
* Over 45k+ SHOUTcast Internet radio stations
* Persistent player controls
* Easily collapsible/expandable Now Playing screen
* Artist news, bios, photos & discographies
* Extras Menu – Now Playing data interacts with other installed apps
* Album art gesturing for track change

* Free Music downloads with Spinner's MP3 of the day
* Integrated Android Search & "Listen to" voice actions
* Browse by Artists, Albums, Songs or Genres
* Playlists and playlist shortcuts
* Play queue management
* SHOUTcast album art support for Album Washer
* New: Request missing lyrics feature for Lyrics
* New: Hardware acceleration support
* Widget player (4×1 & 4×2)
* Lock-screen player
* Last.fm Scrobbling
* Available in 14 languages
Updates in the various versions of Winamp Mobile App
– New: Lyrics In-App Purchase
– Fixed: out of memory crash
– Fixed: Billing issues with the Buy button being unresponsive
– Fixed: Billing issues with ICS and JellyBean
– Fixed: Loss of Pro and paid addons for some models
– Improved: Browse by Folder UI
– Improved: Headset controls
* Improved: Album Washer usability for track selection
Now Playing :Displays song info, album art and more. Press and hold on the song info to interact with other apps like Pandora, YouTube and the Amazon MP3 Store.
Play Queue Management : The play queue is a temporary track listing that you can easily select and sort. And if you like, save it as a playlist.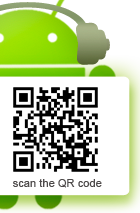 Winamp Android App is a free android app is last updated on November 29, 2012 and the latest version is 1.4.4 which requires ANDROID 2.1 and up. This is currently trending in Android under Music & Audio android apps and already has 10,000,000 – 50,000,000 installations. The android app size is 6.7 M and is a free android app.
This android app is rated 4.3 by 143,765 reviews in android market at the time of writing this post. Download the latest version this best android app for free from android market or visit official android app page of Winamp Android App.