Where's My Water Free Android App Very cute & clever puzzle game. Download this special free preview and few levels of the full 200 level android app. Swampy the Alligator lives under the city and yearns for a more human-like existence. He is especially fond of cleanliness. The other alligators do not take kindly to Swampy's eccentricities and have conspired to sabotage his water supply. Help Swampy by guiding water to his shower.
Where's My Water Free Android App is one of the Best Android Application for your android mobile and android tablet. This free android application is last updated on July 2, 2012 by the developer. The latest version of this android app is 1.3.1 and requires ANDROID version 2.1 and up to be installed on your android device.

Where's My Water? is a challenging physics-based puzzler complete with Retina display graphics, Multi-Touch controls, and an amazing soundtrack. To be successful, you need to be clever and keep an eye out for algae, toxic ooze, triggers, and traps.
Updates in the latest version : MYSTERY DUCK STORY! The Mystery Duck brings a completely new challenge to Where's My Water. The levels may look familiar, but in the Mystery Duck Story you have to collect all new types of ducks including:
a) MegaDuck – The biggest duck of all, he needs more water than ever to collect!
b) Ducklings – Sure they look cute, but they are everywhere!
c) Mystery Duck – He moves! Timing is everything to catch this fancy teleporting duck!
Upgrade to the full game for:
a. 200 CHALLENGING PUZZLES INCLUDING FREE UPDATES!
b. AMAZING LIFELIKE WATER PHYSICS
c. SPECIAL BONUSES AND SURPRISES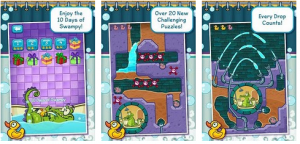 The fun is just beginning. Swampy's pipes are broken and it is up to you to get the water flowing again through four themed chapters, each with 20 challenging levels. Keep playing! New chapters are included in free updates.
Where's My Water Free Android App is currently trending in Android Market under brain & puzzle android apps and has 10,000,000 – 50,000,000 installations since its launch. This android app will require approx 30 M of free space on your device for installation. This free android application is rated 4.6 with 166,839 reviews in google android market at the time of writing this post. You can download this top android app from Google android market.