Wheres My Droid is the best android app to locate your missing or lost android mobile, even work as GPS locator device
Ever lost your phone and you go to call it to listen for the ringer and remember its on silent mode? Now when you lose it you can text your phone with the custom set attention word and it will turn silent mode off, the ringer vol up, and start ringing. You can also text a different attention word and get the GPS location of your phone.

Must have Android 2.2 or better
Features of This best android app
* Find phone by making it ring/vibrate
* Find phone using GPS location
* Passcode protection to prevent unauthorized app changes
* Use computer to email ether attention word.
* Sim card change for stolen phones (BETA)
* Text your attention word
* Notification of changed SIM card or phone number
* Stealth Mode hides incoming text with attention word
* White/Black list to control who can use the app via text
NEW FEATURE of this android app
If your phone is stolen and the thief tries to change the sim card or phone number the app will detect this and send out an alert to a pre-set phone number or email address with the new number and gps info (GPS has not been implemented yet, but you'll have the new number to text and send the gps attention word).
How to Setup this android app
1. Set the words you want to use by opening the app at clicking on one of the first to entry's (Remember to use a word that you will remember, if you lost your phone and forget your word your SOL – also both attention words must be totally different)
2. Change if you want the phone to ring on receiving this text and for how long (in donate version you can set the ringtone too)
3. If you want to be able to use the GPS function you must have 'GPS Satellites' option enabled. (You can find this under Settings -> Security & Location -> Enable GPS satellites) The app can not enable it for you due to Google's new update that does not allow apps to change this setting anymore.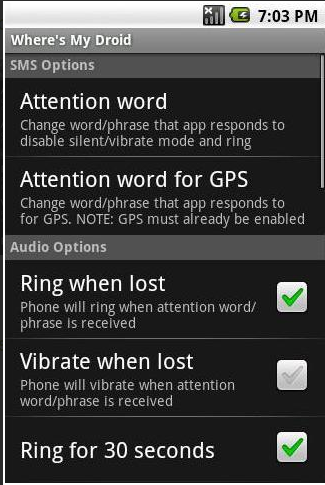 Using ring feature of this android app
1. Now say you are at your friends house hanging out and… where's your phone you can't find it and you had it on silent mode what will you do?
2. Its all good, now your covered with Where's My Android, just use your buddy's phone and text the special word that you set before (assuming you remember it)
3. Now your phone will turn off silent more and crank the volume all the way up and start ringing so you can find it.
4. O look there's your phone it's between the cushions on the couch. Excellent 🙂
Using GPS feature of this android app
1. Now lets say you have lost your phone but you know its not in the house or anywhere near by
2. To get your phones GPS location we will do just as we did before and send a text message to your phone with the GPS attention word this time
3. You phone will get the attention word and get its location then text back with the lat and long as well as a Google maps link so you can find it
4. If you don't have a smart phone to text from you won't be able to click the Google maps link so it may be best to use this feature via email.
5. Version 3.4.3 and above of Where's My Droid now has auto-enabled GPS that works with most devices. This feature allows the user to find their phone using latitude and longitude with Google Maps.
Updates in the latest version :
~ Can use numbers in attention word again
~ Remote lock for Pro
~ Stealth mode to hide incoming attention words
~ Bug fixes for GPS and email
~ Decreased amount of ads
~ Increased menu navigation speed
~ Support for tablets

Wheres My Droid is a free android app is last updated on February 17, 2014 and the latest version is 5.0.3 which requires ANDROID 2.2 and up. This is currently trending in Android under Tools android apps and already has 10,000,000 – 50,000,000 installations. The android app size is 960k and is a free android app.
This android app is rated 4.6 by 75,449 reviews in android market at the time of writing this post. Download the latest version this best android app for free from android market or visit official android app page of Wheres My Droid .