Vlingo android app is your very own Virtual Assistant. Simply speak to Vlingo and it will help you do more stuff, faster and easier than before. Vlingo for Android combines fast and accurate voice to text technology with the intelligence to listen to what you say, and quickly connect you with people, businesses and activities so that you can get things done while on the go. 
The Vlingo Virtual Assistant is the best android app turn your words into action.  Vlingo combines voice to text technology with its "intent engine" to help you quickly complete your desired action.   Simply speak to your phone or type a command through the ActionBar to get just about anything done while on the go.
The InCar feature of this android app , available on all Vlingo-supported devices, is the first and only completely hands  free InCar solution that allows you to send and receive messages, make calls, and get directions while keeping two hands on the wheel, and two eyes on the road.  InCar requires 2.2 and a Bluetooth or wired headset in order to function as designed.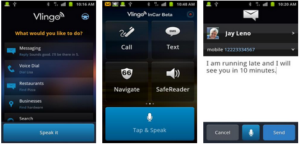 The Vlingo Keyboard was taken out of the latest version, but you can again replicate the functionality if you have Android 2.2 or higher:
1. Go to Settings
2. Select Voice input & output
3. Select Vlingo under the Voice Recognizer drop down
Vlingo Virtual Android App is available free and is last updated on June 19, 2012 and the latest version is 3.6.2 which requires ANDROID 2.2 and up. This is currently trending in Android Market under productivity android apps and already has 5,000,000 – 10,000,000 installations. The android app size is 4.2 M and is a free android app.
This android app is rated 4.3 with 38,723 reviews in android market at the time of writing this post. Download this app from Google android market.