Download Seen Android application and enjoy high quality video and voice calls over Wi-Fi or 3G to your Facebook friends and groups.
Features of Seen Facebook app for video chat:
* Make video or HD Audio voice calls
* Call any Facebook friends or groups worldwide
* Share your visual experiences with your FB friends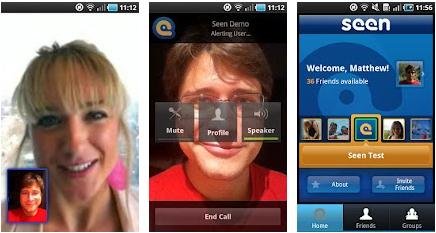 How to use this FB app :
– Log in to Seen with your Facebook account
– Tap on a friend's profile picture to place a call.
– If they don't have Seen, you can invite them to use it through the app.
– You can choose & restrict who can call you.
What's in the latest version of video chat app for android:
– Fixed login issues with some android mobiles.
– Improved audio & video quality, including improved echo cancellation.
– Fixed various crashes.
Seen Video Call for Facebook Android is one of the Best Android Application for facebook on your android mobile. This free android application is last updated on September 11, 2012 by the developer. The latest version of this android app is 1.7 and requires ANDROID version 2.1 and up to be installed on your android device.
This best android app is currently trending in Android Market under social android apps and has 100,000 – 500,000 installations since its launch. This android app will require approx 4.9M of free space on your device for installation. This free android application is rated 4.0 with 1,524 reviews in google android market at the time of writing this post. You can download this free android app from Google android market.