Secure remote access to µTorrent android app from anywhere. µTorrent Remote is part of the latest µTorrent for Windows and Mac. µTorrent 3 for Windows and µTorrent 1.5 Mac.
This Android app securely connects to your home computer from anywhere you have an internet connection. Use µTorrent Remote to add, remove, start, stop torrents and check download progress of all your torrent on android or home computer.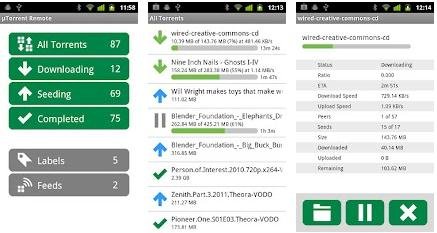 Check your RSS feeds and start downloads on the go. Use your mobile browser to find torrents and they will automatically be added to your home µTorrent. Completed downloads can even be shifted directly back to your Android device for local playback.
Important : You will need to download, install and configure your home computer with an account to use µTorrent Remote.
uTorrent Remote Application is one of the Best Android App for torrent downloads on your android mobile. This free android application is listed under tools apps in Google Android Market. The app has 1,000,000 – 5,000,000 downloads since its launch.
The latest version of this android app (version 1.0.20110929) was released by the developer on November 3, 2011 and requires ANDROID version 2.1 and up to be installed on your android device. This android app is rated 4.2 with 10,295 reviews at the time of writing this post. This android app will require approx 270K of free space on your device for installation. Download this best android app for free from Google android market.