Download the official UEFA Euro 2012 Live Wallpaper on your mobile and kick, tap, and volley multiple official "Tango 12" Match-balls directly on your home screen.
UEFA Euro 2012 Live Wallpaper live wallpaper is must have app for all the football supporters and come loaded withthe official UEFA Euro 2012 logo and the national flags of all the 16 qualifying nations.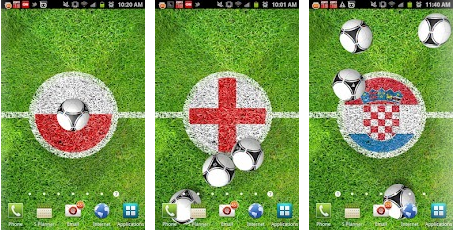 Features of this app :
– National flags from all 16 qualifying countries
– Add up to "5 Tango" 12 footballs to the screen at any-one-time.
– Customize the halfway lines to reflect the host nations, Poland and Ukraine.

UEFA Euro 2012 Live Wallpaper is one of the Best Android App for football wallpapers your android mobile. This free android application is listed under personalization apps in Google Android Market. The app has 500,000 – 1,000,000 downloads since its launch. The latest version of this android app (version 1.0.1) was released by the developer on June 7, 2012 and requires ANDROID version 2.2 and up to be installed on your android device.
This android app is rated 4.6 with 7,956 reviews at the time of writing this post. This android app will require approx 11 M of free space on your device for installation. Download this best android app and also check our the official EURO 2012 football app.