UC Browser is one of the fastest & smartest free browser for android. Adaptable configuration of UC browser helps you to adjust your browsing to different network connections and help reduce the data cost & speed up page loading with compression.
Features of UC Browser For Android:
– Share your favorite pages or contents directly to Facebook for android , Twitter on Android , Google+ app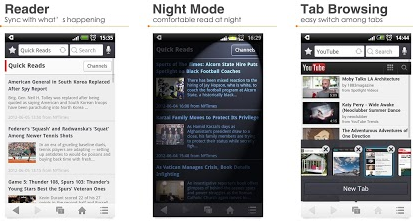 – Voice control lets you give commands.
– More gesture commands.
– Stable and fast download speed, and file management.
– RSS Reader lets you follow up the trend by viewing news from NY Times, CNN, USA Today etc.
– Autofill will be shown once you start typing on address bar.
– Night Mode for Better browsing.
Latest updates :
– UI Enhancement: Multiple start screens with the ability to organize your Web apps into folders.
– Redesigned navigation page and simplified settings.
– Intuitive and dynamic gesture control for managing tabs.
– Watch Offline: Keep your favorite videos from webpages in your phone.
– Customized Themes and Wallpapers:Change the way your UC Browser looks by downloading themes and wallpapers.
– Incognito Browsing: Activate Incognito Browsing your browsing history will not be recorded.
– Ad Blocking: Intelligent blocking of advertisements in WWW sites.
– Screen Shot: Take screen shots of any webpages.
– Now support more phones in Google Play
– Multi-language support! Now we support English / русский / français / português / bahasa Indonesia / Tiếng Việt
– Fix the battery consumption bug
– Hot Content Recommendation
– Win Prizes with Credits
– Tap to Transfer Data
UC Browser For Android is one of the Best Android browser for your android mobile. This free android application is listed under productivity apps in Google Android Market. The app has 500,000,000 – 1,000,000,000 downloads since its launch. The latest version of this android app was released by the developer on 22 December 2017.
This android app is rated 4.5 with 15,958,036 reviews at the time of writing this post. This android app will require approx 11 M of free space on your device for installation. Download this best android app for free from Google play store.