Twitter Application for Android Tablet (Android 3.0, ICS 4.0 ) and Android Jelly bean is the best android app to experience the full features of twitter on your android tablet. Download this free android application and keep tweeting.
Twitter Android App allows to filter views of your timeline that allow you to only look at tweets containing photos, links or videos! Plus TweetCaster HD has all the features you've come to love on a fully tablet-optimized version. TweetCaster android app for tablet has all standard Twitter functions—reading timeline, viewing profiles, sending tweets, clicking links—plus: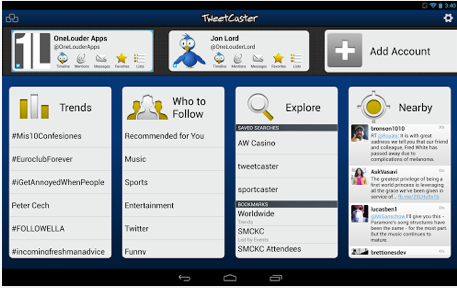 * Multiple Twitter Accounts – Manage multiple Twitter accounts, post to both
* Schedule Tweets – Compose a tweet and schedule it to send later
* TweetMarker – Service that keeps your place in the timeline
* Read Later – Save long stories to Instapaper or Read It Later service
* Themes – Twelve themes to choose from
* Twitter lists
* Customized Twitter notifications
* Enhanced search functionality, including user and nearby search
* Suggested Users (suggests people to follow)
You can also update your facebook account using this best android app. Tap the pencil icon to compose a tweet and then select the Facebook icon. Enter your status update and then tap "send" to post the update to your Facebook page. If you have not previously signed in to Facebook via TweetCaster, you will be asked to connect TweetCaster with your Facebook account. Enter your username and password and click "Connect."
What's in this version of Twitter App for Android Tablet :
– Instagram image preview support updated
– Tweets you favorite or retweet are now marked with an indicator icon
– Added preview support for Telly videos
– "Sleep Mode" allows you to silence notifications whenever you want
– Lock screen widget for Jellybean 4.2+
– LED notification settings
– Internal web browser updates, last tweet in user lists, Twitter header images
– Fixed retweet with comments
– Fixes for Nexus 7 and Jelly Bean Android devices
– UI Improvements including user profiles, menus, and buttons
– Android ICS style menu bar for Android 4.0 devices
– 7″ tablet users (Honeycomb and above) can now toggle between phone and tablet layout
– Image preview support for MOLOME
– Copy tweet option added for tablet users
– Improved auto-complete user search when composing
– Expandable and actionable notifications for Jellybean users (Android 4.1+)
– Open header images in image viewer
– Search results on tablets now includes conversation view
– "Retweets of me" section includes counts
Updates in the Previous Versions :
+ Swipe navigation between tabs
+ Improved photo filter view on phones
+ Pin to Top while streaming option added to Settings
– Includes bug fixes and color changes for the midnight theme
– New Image Gallery option for photos from SmartFilter (phone version)
– Zip It now can zip retweets of a user or a tweet source (e.g. hide Foursquare check-in tweets)
– New features on tablets – Search Party and My Stats
– Find friends using similar users from anyone's profile
– Three additional themes – Orange Crush, Fire Engine Red, and Purple Sage (phone only)
– Honeycomb tablet improvements for viewing photos, TweetMarker, Instapaper/Read It Later
– Schedule tweets to send later
– Zip It enhancements and settings
– Photo enhancements, including via.me support, pinch zoom, save pictures to device
– Photo Effects – Add filters, effects and captions to photo attachments (Android 2.2+)
– Speak Tweets – Tap microphone on New Tweet screen to speak instead of typing
– Enhanced Widget – Updated look & scrollable/resizeable on Android 3.0+
– Image Preview – See Twitter & ow.ly photo thumbnails in timeline view
– Tweet Download Control – Select from 10, 50, 100, or 200 tweets to load
– Choose a specific location when geotagging tweets
– Specify a duration when using Zip It to mute users
– Blocked List – From profile, view list of accounts you've blocked
– Adds ability to select size of image uploads
– 7″ tablet UI updates & improvements
– Tap to close photos
– UI preview when adding a widget let's you see what you're adding

Twitter Application for Android Tablet is the Best Android App for twitter on your android tablet. This is a free android application is last updated on April 2, 2014 by the developer (ONELOUDER APPS). Other android app by the developer includes Facebook for android tablet.
The latest version of this android app is 8.4.2 and requires ANDROID version 1.6 and up to be installed on your android device. This app is currently trending under social android apps and has 5,000,000 – 10,000,000 installations since its launch.
This android app will require approx 6.2 M of free space on your device for installation. This android app is rated 4.4 with 478,849 reviews in Google android market at the time of writing this post. You can download this free Twitter Application for Android Tablet.