aTorrent is the best android app for Bit Torrent Software on your android device. Download large files to your tablet or android phone.

Features of aTorrent Android Application:
* Torrent search dialog
* Magnet links support
* Open torrents right from browser
* Add torrent from file
* Choose download folder
* Partial download (choose files from torrent)
* Multiple parallel downloading
* Option to limit downloads by Wi-Fi
* Option to pause downloads when external power supply is not connected
* Supported protocols: BitTorrent P2P, DHT, Advanced DHT Bootstrap, Magnet links, HTTP & UDP trakers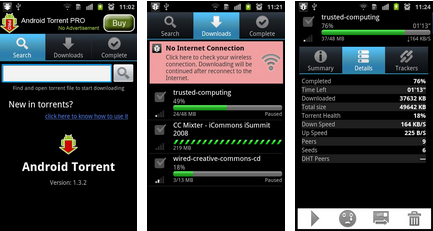 What's in the latest version of Torrent Android Application :
– Added option to remove or leave downloaded files when deleting torrent
– Fixed free storage size calculation
– Fixed downloading to internal storage / SD
+ ports settings
– speed limits settings
– paste magnet/torrent link on search page
– Fixed few minor bugs
Important Note : If you have installed any Free Task manager / RAM manager android application, then add aTorrent to it's exclusion list to avoid unloading from memory and stop downloading.
aTorren Android App is the Best Android Application for torrent software on your android mobile. This free android application is last updated on August 20, 2012 by the developer. The latest version of this android app is 1.7.6 and requires ANDROID version 2.1 and up to be installed on your android device. This app is currently trending in Android Market under tools android apps and has 1,000,000 – 5,000,000 installations since its launch.
This android app will require approx 345K of free space on your device for installation. This android app is rated 4.1 with 8,748 reviews in google android market at the time of writing this post. You can download this free android app from Google android market.