Tiny Flashlight – LED Android App for your android device is one of the essential tool especially for android mobiles without camera LED flash. Incredibly simple and yet very useful flashlight application. Tiny Flashlight – LED Android App will use your device's camera LED as a torch.
Features of Tiny Flashlight – LED Android App
* Camera LED light – Uses your phone's camera led (flash) to emit bright light. Note that some devices don't have a camera flash. In this case the led flashlight option will be disabled, but you can still use one of the screen lights.
* Screen Light – This is the basic white screen light, which is bright enough for daily use. You can use it as your primary option in case your device doesn't have a camera led or you want to save the battery.


* Warning Lights, Police Lights, Color Light – Different light sources, which may be useful in many situations. You can change the brightness and the colors.
Tiny Flashlight – LED Android App is the only app that supports almost all devices with camera led (flash) and fully supports all versions of Android (1.5, 1.6, 2.0, 2.1, 2.2, 3.0).
Features of Tiny Flashlight Android application :
– Supports the widest range of devices with camera led (flash)
– Brightest flashlight / torch on the market, because the camera led emits very intense light in the dark.
– Different widgets
– Has diverse screen lights
– Has a color light

Upgrades in the latest version has added :
a) Partial support for tablets (landscape mode)
b) Added support for Samsung Exhibit 2 , Motorola Backflip, Samsung Galaxy W GT-I8150
c) New option in Settings – ask the user when exiting Tiny Flashlight
d) Added support for Android 4.2 Lock Screen widgets
Tiny Flashlight – LED Android App is the Best Android App for your android mobile. This is a free android application is last updated on January 23, 2013 by the developer. The latest version of this android app is 3.9.9.12 and requires ANDROID version 1.5 and up to be installed on your android device. This app is currently trending in Android Market under tools android apps and has 50,000,000 – 100,000,000 downloads.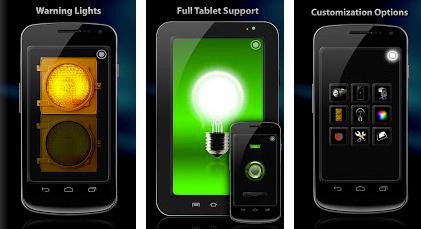 This android app will require approx 1.6 M of free space on your device for installation. This android app is rated 4.6 with 1,607,934 reviews in google android market at the time of writing this post. You can download this free android app from Google android market.