The Times of India android app is the best android apps to connect to the largest English daily newspaper. Download this top android app for free now. With The Times of India Android Application you can read stories or view photos in landscape as well as portrait mode. The app is highly customizable.
You can choose and rearrange the sections, set your favourite city, change the background colour, and increase or reduce text size. You can save articles/photos for offline reading/viewing, and share articles and photos via email, SMS, Facebook or Twitter.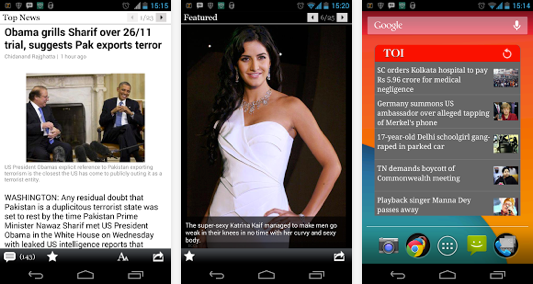 Get The Times of India's complete and up-to-date coverage of everything that is relevant and interesting – anytime, anywhere. This android app, designed and developed for Android smartphones, brings you breaking news and unrivalled coverage of national, international, city, sports, entertainment, lifestyle, business, health, science and technology topics from India's most-read newspaper. You can read stories or view photos in landscape as well as portrait mode. The app is highly customizable.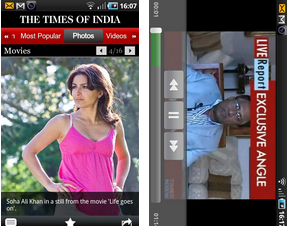 It comes with live cricket scores and a complete scorecard, local news from more than 30 cities, latest movie reviews by critics as well as readers, superb photo galleries, and top videos from news, business, sports, entertainment and lifestyle categories. The Times of India's Android app is optimized for the Android platform's 1.6, 2.1, 2.2 and 2.3 versions. Very very very good execution. Very efficient and easy on battery usage. Almost perfect.
The Times of India Android Application is one of the Best Android Application for Indian Newspaper on your android mobile. This free android application is last updated on December 23, 2013 by Times Mobile Limited (Developers of Economic Times App , IPL Cricket App & Indiatimes Shopping App).
The latest version of this android app depends on the android version installed on your device. This app is currently trending in Android Market under news & magazines android apps and has 1,000,000 – 5,000,000 installations since its launch.
Updates in the latest version :
– Sleek new interface with slide-in navigation. Swipe across or tap on the icon in the top left corner to display
– Browse through sub-sections within Cities, Sports, Photos, Entertainment and lots more from the main section screen itself
– Ability to turn on/off Push Notifications as requested by many of our users
– Fixed issues of some images not loading on the list screens
– Fixed a number of bugs that was causing the app to crash randomly
– Removed the Location permission
– App opens & loads data faster
– Widget loading and refresh times have been improved
This android app will require approx 3.9 M of free space on your device for installation. This free android application is rated 4.0 with 25,768 reviews in google android market at the time of writing this post. You can download this best android app from Google android market.