Friday's Android Application is one of the Best Android App for dinning on your android mobile. This free android application is listed under lifestyle apps in Google Android Market.
Features of TGIF Android Application
– Sign up for our TGIF VIP rewards program from your device
– Get a free appetizer or dessert coupon.
– Pay your bill from your phone
– Find the nearest Friday's by ZIP code, or city and state
– Get maps and driving directions
– Specials and promotions
– Full drink and food menus
– Request Rewards, view and show Rewards
Fridays' Android Application has all the standard features e.g. finding directions to a local oulet, checking out the chain's menus and placing orders. But what makes this app stand out is the unique feature: the ability to pay your bill, powered by a service called Tabbedout.
Updates in the latest version of this app
– The Give Me More Stripes program is now in the app.
– Check your stripes, request Rewards, view and show Rewards certificates
– View and Request Rewards and History
– Give Me Stripes Credit
– Account Activity & Account Info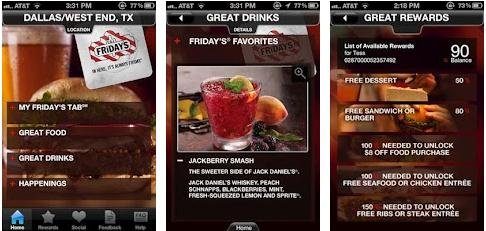 Note : My Friday's TabSM (Bill pay service) is programmed to add a tip of 18%. You can increase or decrease this tip at your discretion.
The app has 10,000 – 50,000 downloads since its launch. The latest version of this android app (version 2.6.0) was released by the developer on July 25, 2012 and requires ANDROID version 2.2 and up to be installed on your android device.
This android app will require approx 30 M of free space on your device for installation. Download this best android app for free from Google android market.