Remotely control your computer with TeamViewer android app for free while you are on the road! Mobile and flexible android app enables you to remotely access computers from your android device! Now you can easily support friends and family from this android app when they have computer problems.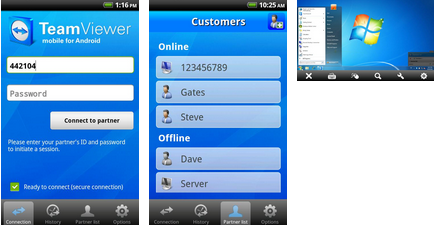 You can also gain access to your home or office computer to edit documents or use particular software while you are on the road using your android mobile. Mobile and flexible with the TeamViewer android app.
The android app has following features :
– Support your clients and colleagues spontaneously.
– Access your office desktop with all of its documents and installed applications.
– Remotely administer unattended computers (e.g. servers).
– Free for non-commercial use: support family and friends or have remote access to your own computer.
TeamViewer android app makes screensharing and file-sharing as fluid and unobtrusive as it should be, and is a must-have for the home or remote office user. The TeamViewer app is free for all non-commercial users!
Installation Guide for TeamViewer Android App :
1. Install and start TeamViewer Free from the Android Market or download from here .
2. Install and start TeamViewer full version on your computer.
3. Enter your computer's TeamViewer ID and password directly in the TeamViewer interface on your Android device to connect.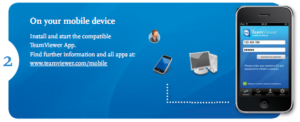 Installation notes for TeamViewer Android App: You can download and install the app using your Android web browser. Due to this direct download you will have to enable the following option in Android once: Settings – Application settings – Unknown sources (enable).

Best Android Apps Tip for TeamViewer Android App : It is highly recommended that you use TeamViewer on android phones with a larger display and a bigger resolution for best experience else it will become really difficult to navigate the PC screen on your android device.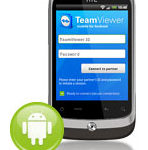 Team Viewer Free Android Application is the Best Android Application for remote access on your android mobile. This is a free android application is last updated on February 20, 2013 by the developer. The latest version of this android app is 8.0.824 and requires ANDROID version 1.6 and up to be installed on your android device.
Updates in the latest version:
– Session toolbar can be minimized
– New shortcut icons within the session toolbar
– Session is displayed in full screen again
– pinch to zoom gesture
– LAN connections using the IP-address without the need to have Internet available
– Event logs can be send to the TeamViewer support again
This app is currently trending in Android Market under productivity android apps and has 5,000,000 – 10,000,000 installations since its launch. This android app will require approx 10 M of free space on your device for installation. This android app is rated 4.7 with 55,083 reviews in google android market at the time of writing this post. You can download this free android app from Google android market.