Tap Fish Android app let's you decide what fish to grow, to sell, and to breed! Download this addictive best android app for FREE.
This best android app let's you raise beautiful baby Clown Fish, feed them to see them grow, and decorate your tanks with exotic tropical plants and sea reefs. Easy and simple as 1-2-3. (Don't forget to clean your tanks!)
FEATURES of Tap Fish Android App:
* Hundreds of exotic marine life including killer whales, sharks and sting rays
* buy, feed, love, sell and revive your fish to gain experience
* Breed your fish to your heart content and for extra coins
* Level up to 80 tanks and 80 levels
* Dozens of backgrounds including Atlantis and Stonehenge FREE!
* Hundreds of decorations and plants: sea reefs, caves, mermaids, sunken ship and castles!
* Visit / clean friend's tanks and level up to become "featured" neighbor tanks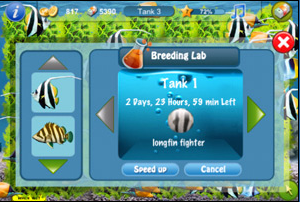 Latest upgrade of android application has
-Misc Event related bug fix
-Support for upcoming Pirate Cave event
-Memory optimization
-Add friends as neighbors
-Bookmark neighbors
-Preview Backgrounds
-Free fishbucks after level 40!
-Get xp when you spend fishbucks!
-All standard and colored backgrounds are now free!
Tap Fish Android App is one of the Best Android App for fish lovers your android mobile. This free android application is listed under casual apps in Google Android Market. The app has 10,000,000 – 50,000,000 downloads since its launch. The latest version of this android app (version 1.67) was released by the developer on July 4, 2012 and requires ANDROID version 2.2 and up to be installed on your android device.
This android app is rated 4.5 with 579,070 reviews at the time of writing this post. This android app will require approx 9.3 M of free space on your device for installation. Download this best android app for free from Google android market.