Download the free Spider-Man Live Wallpaper for android featuring the superhero's 3D face hovering over the streets of New York City. Behind Spider-Man, the skyline of New York City changes as the day turns into night. All spidy's friends and foes are reflected in his mirrored lenses, as he turns about and shakes his head.

Spider Man 3D Live Wallpaper is one of the Best live Android wallpaper Application for your android mobile. This free android application is last updated on July 7, 2012 by the developer. The latest version of this android app is 1.06 and requires ANDROID version 2.2 and up to be installed on your android device.
The app also has a premium version. You can buy premium version and unlock following features :
– An official spiderman ringtone featuring sound clips from the film.
– The best Spider-Man audio clips from the movie.
– Simply touch his mask and let Spider-Man's wise cracking antics begin
– Activate "Spidey Sense Alerts" this will appear around Spider-Man's head every time you receives an email or text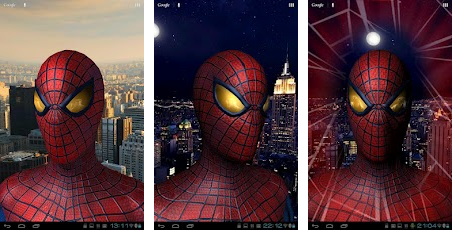 This best android app is currently trending in Android Market under personalization android apps and has 1,000,000 – 5,000,000 installations since its launch. This android app will require approx 8.4 M of free space on your device for installation. This free android application is rated 4.2 with 17,676 reviews in google android market at the time of writing this post. You can download this best android app from Google android market.