Get complete freedom from unwanted SMS! World's most advanced and best android app for anti SMS spam. Download now on your android mobile for FREE. Get the World's Most Advanced & Powerful SMS anti spam & SMS filter android  app. Awarded by MIT Technology Review, Proto, NASSCOM & many others; smsBlocker blocks spam SMS automatically. Already being used byusers across 110 countries, this ultimate SMS app is sure to bring smile on your face if spam SMS is irritating you.
Unlike any other existing anti spam sms android app, you do not need to always feed in the number/title of the spammer. smsBlocker will intelligently block the spam SMS on its own once you provide your blocking/allowing choices. smsBlocker guarantees you 0% intrusion rate. It gives you the power to block SMS – not only spam sms, but a complete control in your hands to effectively block any SMS.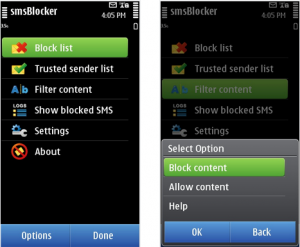 The features of this best android app include:
• Unique anti spam logic- inbuilt intelligence to detect and block cunning spam SMS, automatically.
• 'One-Click-Block' to block in single click from home Screen.
• Blocked SMS logs deleted automatically by the app itself, once that reach the limit of 100.
• Fully customizable. Modify your blocking/allowing preferences as you want.
• Seamless Integration with phonebook, SMS inbox.
• Detailed log of all blocked SMS.
• Blocked SMS storage to review & restore at your convenience.
• Selective SMS block based on content, bulk spam SMS, sender's title or a specific number.
• Insanely easy to set up and use.
Thanks to the intuitive logic, sms Blocker app detects and blocks the spam SMS automatically. This android app is the only software that can auto-filter spam. This unique ability makes this android app a smartBlocker. This best android app blocks interruptions but it itself is non-intruding. It android app works silently and intelligently in the background while you focus on more important things.
Updates in the various versions of SMS Blocker Android App
1. Performance improvement.
2. Improved spam auto-blocking logic.
3. Version update from 1.0.7 to 2.0.0 causing Force Close in some phones, fixed.
4. Fixed couple of bugs causing app freeze or app crash while screen rotation.
5. Option to turn on/off spam auto-blocking
5. Improved UI
6. Fixed a bug causing app crash on certain phones.
7. Refined blocking logic further.

The also has a paid version with enhances features. Post 30 days trial of premium version, you can continue using free version or upgrade to paid Premium version. Features of premium SMS Blocker Android App
✔ SMS Block notification settings.
✔ Password protection for the app.
✔ Backup/restore data from/in the app.
✔ Option to delete accumulated blocked SMS (Logs) automatically.
✔ Option to delete Logs in one click.
✔ No limit on number of Block/Allow list entries.
✔ Option to set tone for Suspicious SMS pop up
✔ Ads free
✔ Priority support and service
Updates in the latest version :
1. Call blocking (beta) feature added.
2. Logs export to Notepad feature added.
3. Spam block notification On/Off setting is now available in FREE version
4. SIM phonebook integration
5. Improved spam filters
6. Number addition in Block list simplified
7. Auto response feature simplified
8. MAJOR usability and design improvement
9. Non-English translation REMOVED (temporary removal)
10. Inbox list display bug fixed
11. 'Help' menu transferred to 'Options' menu list
12. App will NOT work on Android 4.4 version. If you are using Google Hangout, you may get 2 notifications.
SMS Blocker Android Application is the best android App available free and is last updated on December 27, 2013 and the latest version is 6.1.9 which requires ANDROID 2.0 and up. This is currently trending in Android Market under tools android apps and already has 1,000,000 – 5,000,000 installations. The android app size is 3.3 M and is a free android app.
This android app is rated 4.6 with 35,647 reviews in android market at the time of writing this post. Download this app from Google android market.