Annotate, edit and save your photos & scribbles with best android app on your android mobile and tablet. Download this android app for FREE.

Sketch something new and markup an existing photo, then save your creations to Evernote or share them with other applications.
Features of Skitch Android Application:
– Zoom and crop images.
– Create smooth, lines and scribbles to explain an idea.
– Add text using a special high-contrast coloring scheme for readability.
– Markup text with the semi-opaque highlighter tool.
– Re-position and delete shapes, text and drawings at any time.
– Share your work with with any application that accepts images.
Here are some ways to use Skitch Android App:
– At work: Communicate a design change by annotating a screenshot
– At home: Annotate a photo of your living room to show movers where to put furniture
Updates in this version of Skitch Android Application:
– Ability to rotate objects and text using two fingers
– Improved multi-select dragging
– Improved image quality
– Help available in English
– Stability improvements for low-memory devices
– Added Right to Left text support for Right to Left languages to the text annotation tool
– Added the ability to draw dots with the pen tool
– Added an update check to make sure you have a current version of Evernote for Android if needed
– New language: Arabic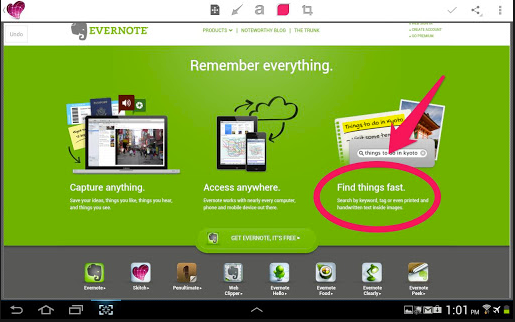 Skitch Android Application is one of the Best Android Application for photo editing on your android mobile. This free android application is last updated on June 25, 2013 by the developer. The latest version of this android app is 2.0.6.1 and requires ANDROID version 2.0 and up to be installed on your android device. This best android app is currently trending in Android Market under productivity android apps and has 5,000,000 – 10,000,000 installations since its launch.

This android app will require approx 5.9 M of free space on your device for installation. This free android application is rated 4.3 with 45,899 reviews in google android market at the time of writing this post. You can download this free android app from Google android market.