Six Guns Android App is a truly enormous and open Wild West frontier game. This best android tablet application game is full of cowboys, bandits and unnatural enemies in this third person shooter adventure game. Freely explore an open world set in Arizona and Oregon full of events, mystery and challenges for you.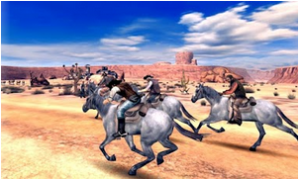 How to play : Take on 40 missions with a great variety of tasks for you to overcome. You'll race horses, take out robbers, fend off waves of enemies and more along the way! In this kill-or-be-killed land, you'll need to unlock all 8 different horses, 19 weapons and a wide selection of clothes, ammo and other items to help you on your adventure.

Six Guns Android App is one of the Best Android arcade application on your android mobile. This free android application is last updated on March 16, 2012 by the developer. The latest version of this android app is 1.0.3 and requires ANDROID version 2.1 and up to be installed on your android device. This best android app is currently trending in Android Market under arcade & action android apps and has 1,000,000 – 5,000,000 installations since its launch. This android app will require approx 1.4 M of free space on your device for installation. This free android application is rated 4.6 with 33,618 reviews in google android market at the time of writing this post. You can download this best android app from Google android market.