Shopkick Android Application is the best android application for shopping & discount coupons. Find the hottest Black Friday deals right on your android mobile now. Find new hot deals, exclusive deals & must-have items at the best stores, like Target, Best Buy, Macy's, American Eagle, Sports Authority, Crate & Barrel and many more. We keep you posted on everything that happens at your favorite stores.
Discover and unlock awesome deals in the shopkick app at dozens of national stores, many of them are exclusively offered to shopkick users only. Collect additional kicks rewards by scanning barcodes of featured products with your phone at 250,000 stores across the United States.
Simply WALK into partner stores (yes, just VISIT them – crazy, but true), scan products, purchase or even check in. Walk-in rewards are available in 80 markets now!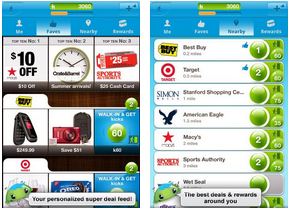 Get cool rewards like iTunes gift cards, restaurant vouchers, Best Buy/Target/Macy's/American Eagle/Sports Authority instant gift cards, Facebook Credits, movie tickets, or if you go all out, a 3D 55″ Sony Bravia HDTV or a cruise around the world!
Features of the app :
• Beautiful, simple new design
• Easily find great items at nearby stores
• Scroll through products and get inspired
• Instantly see where to get kicks
The latest version of this android app provides improved shopkick Signal performance on Android devices. Collect kicks at the entrance of shopkick stores more easily. (The shopkick Signal will only work at stores where 'Walk In & Get X kicks' is displayed.) Just walk into 1,300 Best Buy stores in all 50 states, and hundreds of Target stores, Macy's, American Eagle, Sports Authority, Crate&Barrel, West Elm, Wet Seal and the largest Simon malls! Open the shopkick app on your  Android phone in the entrance area, and wait for a few seconds.

What's in this version of Shopkick Android Application:
– Black Friday Discounts
– Brand New Rewards Mall Experience
– New rewards constantly being added – check back often
– Faster, More Responsive Walk-Ins – Spend more time shopping
– Bug Fixes addressing the online and offline walk-in experience
– Audio improvements to presence/walk-in detection at participating partner store locations.
– Performance improvements for watching commercials on The CW Network! Tap the TV icon in the upper right hand corner of the Nearby screen.
– New app icon so look for the shopkick blue icon with the big kicks "k"!
Note : Collect thousands of extra kicks by using your linked MasterCard card or Visa debit or credit card on qualifying purchases.
Shopkick Android Application is one of the Best Android App for shopping deals. This free android application is listed under shopping apps in Google Android Market. The app has 1,000,000 – 5,000,000 downloads since its launch. The latest version of this android app (version 4.0) was released by the developer on November 25, 2013 and requires ANDROID version 2.1 and up to be installed on your android device.
This android app is rated 4.3 with 79,570 reviews at the time of writing this post. This android app will require approx 9.3M of free space on your device for installation. Download this best android app for free from Google android market