Scrabble is a word game in which two to four players score points by forming words from individual lettered tiles on a gameboard marked with a 15-by-15 grid. The words are formed across and down in crossword fashion and must appear in a standard dictionary. Now you can play this right on your android mobile with these free android applications.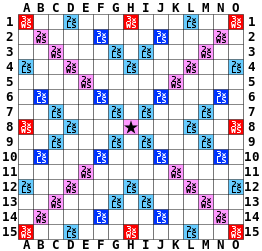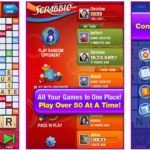 Scrabble Android App : Scrabble Free android app is the official scrabble app for your android device. Download this best android app for free. GAME UPDATE NOW AVAILABLE! Download now for the best game experience yet! CONNECT WITH FRIENDS IN MULTIPLE WAYS It's easy to find friends playing SCRABBLE. Connect and play via a username, email address, or send an invitation using your Android smartphone contact list. Post invitations to play via Facebook and email, too! PLAY FRIENDS ACROSS PLATFORMS With real Cross-Platform Play, you can challenge fellow word warriors on other Android devices, iPhones/iPod touches, and even Facebook*. Play SCRABBLE anytime, anywhere…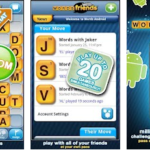 Words With Friends Android App : Download and enjoy one of the most popular mobile word game Words With Friends for on your Android mobile and experience what keeps millions of players addicted to the word building. Features of Words with Friends : • Simple and familiar crossword gameplay you know and love • Turn-based design lets you play up to 20 games simultaneously • Play with your friends or match-make instantly with a random opponent • Stay in touch with friends and family with in-game chat messaging • Notifications tell you when it's your turn What's in this version of Words With Friends…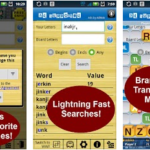 Words with Friends & Scrabble Cheat App : Word Breaker helps you play all of your favorite word puzzle games including Scrabble, Words with Friends, Jamble, Upwords, Wordsmith, Wordstone, Words By Post, Crossword Puzzles and more. Features of Words with Friends & Scrabble Cheat App: -Supports the following games: EA Scrabble, Words with Friends, Wordfeud, Worksmith, and Words By Post. -Lightning fast searches! Completely reworked search algorithm for 3.0! -Local dictionary (word definitions are accessed through the internet) -Quick launch button to get you back into your favorite word game fast! -Supports blank tiles (wild cards). -Options to filter results based on length. -Move to SD card….
Scrabble Cheat Android App : Scrabble Cheat Android Application is one of the Best Android Application for generating words for scrabble, words with friends and scramble word app on your android mobile. Features : -New overlay feature, do not have to leave game. -Does not rely on an internet connection. -Fully functional, no restrictions. -TURN ON/OFF FEATURES FROM SETTINGS SCREEN -Make sure you check out the search settings before using -Long press a word to access dictionary -optional transparency see game board through app! -multiple search settings (check settings screen) This is a FREE cheat app, designed for Words with Friends, wordfeud, scrabble android…