Download Samurai vs Zombies Android App for your android tablet and android mobile and play as the heroic Samurai. Defend your village against hordes of attacking zombies and emerge as a savior! In your campaign to save your village recruit allies and build defenses to stop zombies!

How to play :
Waves of zombies will enter from the right side of the screen, and you have to fight them with your character, summon minions to help you do so, and prevent them from getting to your Sacred Gate which is on the left side of the screen.
– Set up your defenses against hordes of zombies.
– Get some help in the store with farmers, warriors, archers and much more.
– Play Pachinko to earn rare items.
– Become more powerful by acquiring better weapons, defenses and magical abilities!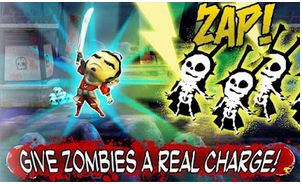 Samurai vs Zombies Android App is a Freemium version: The game is free to download, but some upgrades in game cost Glu coins which can be purchased in app. Glu coins can also be earned by downloading and running various titles advertised on the main menus, dropped in game, or by completing offers.
Samurai vs Zombies Android App is one of the Best Android Application for action on your android tablet. This free android application is last updated on March 22, 2012 by the developer. The latest version of this android app is 1.1.3 and requires ANDROID version 2.1 and up to be installed on your android device. This best android app is currently trending in Android Market under arcade & action android apps and has 1,000,000 – 5,000,000 installations since its launch. This android app will require approx 138M of free space on your device for installation. This free android application is rated 4.6 with 63,476 reviews in google android market at the time of writing this post. You can download this best android app from Google android play market.