Download Recipe Search Android Tablet App and discover a quick and simple way to find recipes with ingredients that you have or want.

Features of Recipe Search Android Tablet App:
– Complete recipes directions, ingredients and reviews.
– Search by ingredients and food title.
– Forums on food related topics.
– Bookmark recipes.
– Share recipes on Twitter App & facebook App.
– Share own recipes with friends and community.
– Create & share shopping list.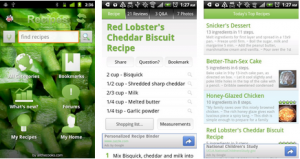 Recipe Search Android Tablet App lets you:
– Have a more healthy food menu.
– Talk with a community of people with the same food tastes.
– Discover new recipes and cook great food.
– Find nice recipe solution for diabetes.
The Top Recipes section is a list of the last recipes that have been added to the bookmarks. It changes daily, so you would have different recipes that are being famous on different parts of the year.
Updates in the previous version of Recipe Search Android Tablet App:
– Support for Google TV
– User profile feed
– Following/Followers from a user
– Light style replaced the dark areas
Recipe Search Android Tablet App is one of the Best Android Application for food recipe on your android tablet and mobile. This free android application is last updated on February 10, 2012 by the developer. The latest version of this android app is 2.53 and requires ANDROID version 1.6 and up to be installed on your android device.
This best android app is currently trending in Android Market under health & fitness android apps and has 1,000,000 – 5,000,000 installations since its launch. This android app will require approx 1.3 M of free space on your device for installation. This free android application is rated 4.2 with 9,196 reviews in google android market at the time of writing this post. You can download this best android app from Google android market.