Download Racing Moto the best android app for bike racing. Racing Moto is a fast paced racing game. You never dare drive so fast in the real world! Control your moto with incredible fast speed during traffic rush time! Also enjoy beautiful view during the journey – desert, city, bridge, sea and forest!
How to play this android app:
# Tilt phone to control moto direction
# Tap screen to accelerate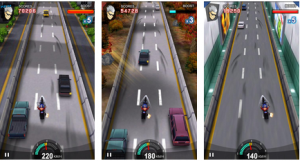 Tips to win high score in this android application:
# Keep accelerating moto so that the score will be boosted. The boost factor is shown on the right top of the screen.
# Watch out indicator light. Vehicles may turn left or right.
Updates in various versions of Racing Moto Android App:
V1.1.2
– Improved model display, better graphics!
– Fixed rare forced close on some devices.
V1.1.0
– Added option to select motorcycles.
Racing Moto Android Application is the best Android App available for racing apps for free and is last updated on March 6, 2012 and the latest version is 1.1.7 which requires ANDROID 1.6 and up. This is currently trending in Android Market under Arcade and action android apps and already has 10,000,000 – 50,000,000 installations. The android app size is 4.0 M and is a free android app. This android app is rated 4.4 with 181,643 reviews in android market at the time of writing this post. Download this app from Google android market.