Raaga is a one of the best android apps for turning your android tablet PC and mobile in a music station. App has a very healthy collection of songs, and plays seamlessly even on a 2G connection. This best android app gives full access to the largest archive of Indian music in over 18 languages including Bollywood, Tamil, Telugu, Bengali, Bhangra and many more…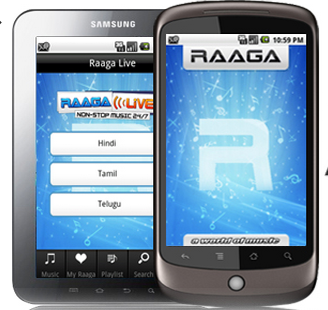 * Discover new music from the community
* Connect with Friends and music lovers worldwide
* Share your playlists with millions of music fans
* Recommend and discuss your favorite music and artists
* Access loads of music from thousands of Public Playlists
* Largest archive of devotional content
* Music for meditation, yoga and relaxation
Full access to the largest archive of Indian music in over 18 languages including Bollywood, Tamil, Telugu, Bengali, Bhangra and many more.
Browse entire archive including New Releases, Devotional albums, Most Popular songs and Compilations
My Raaga – Listen to your playlists, favorite albums and even your recent plays. Create and update your playlists
Public Playlists – Choose from over thousands of playlists. Filter by language or genre
Raaga Live – Listen to 24/7 Non-Stop Channels
Social – Fully integrated with Facebook and Twitter. Share your favorite music on the go
Discover new music from the community
Share your playlists with millions of music fans
Music for meditation, yoga and relaxation
Updates in the latest version :
* Added Play/Pause
* Added Repeat a song or the entire playlist
* Added Shuffle option in Player
This free android app is last updated on October 15, 2012 and the latest version is 1.12 which requires ANDROID 2.1 and up. This is currently trending in Android market under Music and already has 100,000 – 500,000 installations. The android app size is 723K and is a free android app.