Download Pumpkins vs Monsters Android App and play the pumpkin hero to save the mankind. In the darkness midnight, the monsters revived and began to invade human homes. At this time, the pumpkin hero appeared, they work together to protect people's house, use they bodies to attack the monsters.
How to play Pumpkins vs. Monsters Android app:
– Action & Match 3 & defensive type of game perfect combination
– Simple control,flick the pumpkin, attack monster
– story mode, up to 75 Levels
– 5 different worlds
– Endless mode, guarantees you many long hours of fun
– 6 different attributes of pumpkin
– Shop System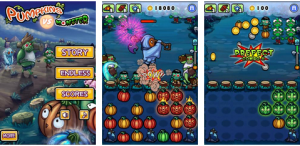 Tips to plat Pumpkins vs. Monsters android app:
– Upgrade pumpkin will repel the monster farther
– Use more props would be easier to complete level
– The incomparable new mode will bring you very different new experience.
Updates in the android app:
Version 2.0:
Add 3 Props: Purple Lightning, Ice Grenade, Grave Pumpkin
Add In-App purchase
Version 2.1 (latest):
Crash bug fix of galaxy s2

Pumpkins vs. Monsters Android App is one of the Best Android Application for your android mobile. This free android application is last updated on March 1, 2013 by the developer. The latest version of this android app is 3.1 and requires ANDROID version 2.1 and up to be installed on your android device.
This best android app is currently trending in Android Market under arcade & action android apps and has 10,000,000 – 50,000,000 installations since its launch. This android app will require approx 9.4M of free space on your device for installation. This free android application is rated 4.6 with 113,890 reviews in google android market at the time of writing this post. You can download this free android app from Google android market.