Pulse is the best android app that takes your favorite websites and transforms them into a colorful and interactive mosaic. Download this free android app for your android tablet and android mobile and change the way to consume news.

Tap on an article to see a clean and elegant view of the news story. Save stories for reading later across all platforms or sync them with Instapaper, Read it Later and Evernote. Sharing a story via Facebook, Twitter and email is as easy as two taps. All your content in one place: So easy to add any content you want, from Huffington Post, Time Magazine and Vanity Fair to your Facebook feed.
Features of best android app
Dual view: For each article on Pulse News, you can switch between a clean text summary of the article or go to the website directly. When you tap on an article, both are ready to view, almost instantly!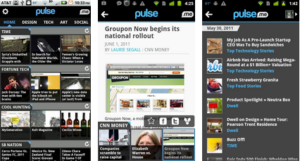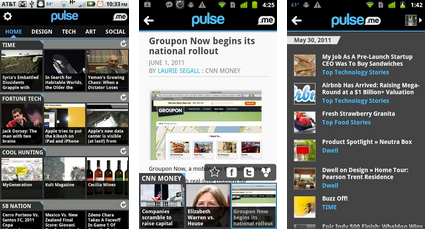 Dashboard: With the dashboard layout, you can continue to browse news stories on Pulse as you read an article.
Offline sync: No internet? No problem. Pulse loads the news stories you read, and makes it available wherever you are.
Integration with Google Reader: Pulse News allows you to directly import all your RSS feeds from Google Reader. The stories you read on Pulse will be marked as read on Google Reader. Stories you star in Pulse, will be starred in Google Reader.
Easy share: Found an interesting news article? Sharing a news story on Pulse via Facebook, Twitter, Instapaper, Read it Later, Evernote or email is simple.
Save stories: For users who want to bookmark their favorite stories, Pulse.me offers a simple archive for favorites found across the Pulse platform. For users that don't have time to finish reading a story, tapping the star button will save the story for later. Saved stories will be synced across your account on any device and the web.
News discovery: Pulse features new content every week. You can also search for a news source by simple keywords. You can add up to 60 news sources in Pulse.
Smooth transitions: No getting lost in applications as you rotate your Android device. Special care has been taken to maintain consistency between Landscape and Portrait views.
Stay up to date: Want to read the latest news as soon as its published? With a single tap, you can refresh all your news sources instantly without ever leaving the application.
Updates in the latest version of Pulse News Android App
– Support for int'l characters in articles
– Tablet reading mode bug fix
– Click on an image in a story to get a special image view
– Completely Redesigned Catalog: New cover flow interaction to browse through sources and discover your favorite content
– Pulse Highlights allows you to see the stories your friends share right in Pulse. (see description)
– Sharing to fb, twitter, and g+ is consolidated into one sharing dialog
Pulse News  Android Application is the best android App available free and is last updated on February 27, 2013 and the latest version is 3.1.3 which requires ANDROID 2.1 and up. This is currently trending in Android Market under News android apps and already has 10,000,000 – 50,000,000 installations. The android app size is 4.7 M and is a free android app. This android app is rated 4.5 with 88,478 reviews in android market at the time of writing this post.
Download
this app from Google android market.