Prenatal Lullabies android app offers a variety of tender and soothing music that helps stimulate the auditory nerve functioning and enhance brain development of a fetus.

Prenatal Lullabies is specially designed and highly recommended by obstetricians and researchers. Prenatal Lullabies for Android utilizes leisure music with slow tempo resembling mothers' own heart beats when they are at rest. Mozart's piano sonatas are also included, well recognized as a solid assistant in fetus brain development.
Notable features of Prenatal Lullabies android Application:
– 10 fine-selected lullabies in Full Version (5 in Lite Version) that builds your baby's brain, and calms your baby and you with healing melodies
– Time-setting control that allows you to set the time you want the music to be played, with a maximum of 60 minutes per day.
– Elegant User Interface and elaborate descriptions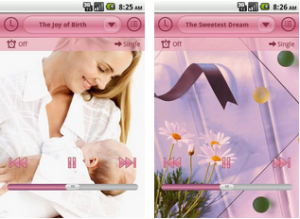 Prenatal Lullabies for Android is a free android app is last updated on May 16, 2011 and the latest version is 1.5 which requires ANDROID 1.5 and up. This is currently trending in Android Market under health & Fitness android apps and already has 1,000,000 – 5,000,000 installations. The android app size is 8.8 M and is a free android app. This android app is rated 4.3  in android market at the time of writing this post. Download the latest version this best android app for free from android market.