PocketCloud Remote Access App is one of the best android app to let you take remote desktop access to Windows and Mac OS from your Android device. With Wyse PocketCloud you can remotely access your desktop, multimedia, files and applications from your Android phone or tablet.
Staying connected has never been easier! Now optimized for Android 3.0 (Honeycomb) tablets. You'll enjoy unsurpassed connectivity options, security and reliability, and fast performance not only on WiFi but on 3G/4G networks too.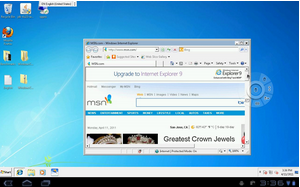 SUPPORTED OS PLATFORMS
+ Android 2.1 or later
+ Windows 8, Windows 7, Windows Vista, and Windows XP
+ Mac OSX 10.6 and 10.7
PocketCloud standard features:
– Android 3.0 (Honeycomb) tablet support
– Three connection options:
– RDP (Remote Desktop Protocol)
– VNC (Virtual Network Computing)
– Auto Discovery (through your Google account)
– Intuitive User Interface
– Multitasking
– Touch Pointer: high accuracy screen control
– Keyboard auto-activation
– Custom keyboards with shortcuts
– Limited to 1 computer
What's in this version:
– Added Pinch To Zoom support
– Faster Load Time
– Japanese KB Improvements
– Issues Addressed:
– Fixed Upgrade issue on Android 2.1
– Improved KB handling
Resolved issues in this version:
– Connecting with a 4G device
– Desktop scrolling issues with bluetooth mice.
– Resolved network switching issues between 3G and wifi.

PocketCloud Remote Access App is the Best Android Application for remote access on your android mobile. This is a free android application is last updated on April 18, 2013 by the developer. The latest version of this android app is 1.3.116 and requires ANDROID version 2.1 and up to be installed on your android device. This app is currently trending in Android Market under productivity android apps and has 1,000,000 – 5,000,000 installations since its launch.
This android app will require approx 7.5M of free space on your device for installation. This android app is rated 4.5 with 27,246 reviews in google android market at the time of writing this post. You can download this best android app from Google android market or refer to developer's site for more info.