Photo Warp Android App lets you bend and distort the picture on your android device to your heart's content.
Features of Photo Warp Android App :
– Warp tool (Moves pixels around as you drag the cursor),
– Pinch and Bloat tools (Move pixels towards/away from the center of your brush)
– The unique Reconstruct brush (gradually resets the picture to its original state as you brush over it)
– Twirl clockwise and counterclockwise tools (rotates pixels around the center of brush)
– Set brush size and hardness
– Fast and responsive (real-time) manipulation even on older devices!
– Use any picture to warp whether it's from your camera or any photo from your device
– Save pictures to your device or SD card
– Share your creations online
– The much requested feature: you can now open pictures from the gallery app 😉
– Installing to SD card is supported
– Compatible with Honeycomb (Android 3.x) devices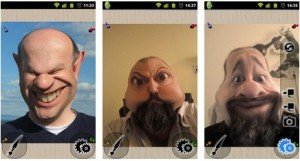 Photo Warp Android App is the Best Android App for fun photos on your android mobile. This is a free android application is last updated on April 18, 2013 by the developer. The latest version of this android app is 1.6.11 and requires ANDROID version 1.6 and up to be installed on your android device. This app is currently trending in Android Market under entertainment android apps and has 10,000,000 – 50,000,000 installations since its launch.
Updates in the app :
– Improved saving on devices without sd card
– Connectivity with Face Off
– Security question before leaving the app
– Two new tools (Twirl clockwise and counterclockwise)
– Online sharing
– Open pictures from the gallery

This android app will require approx 981 K of free space on your device for installation. This android app is rated 4.2 with 24,421 reviews in google play store at the time of writing this post. You can download this free android app from Google android market