Pho.to Lab android application is a FREE Photo Fun Generator in your pocket. This best android app comes with more than 450 awesome effects for your photos.
Features and effects of Pho.to Lab Android App:
a. Photo montages with automatic face detection
b. Funny animated cartoon effects
c. Photo effects for stylish and trendy folks
d. Photo filters: Neon Glow, Fire, Jigsaw Puzzle, HDR, Pencil Drawing, Oil & Impressionist Painting, Chalk & Charcoal, and more
e. Put yourself and your sweetheart or even all your friends into one photo collage.
Upgrades in this version:
– A bunch of fixes and improvements performed to make the application much more stable
– Optimized memory usage, and now the app works faster.
Upgrades in previous Version 1.2.3:
– New "Magazine Covers" effects group with 6 magazines.
– Several bugs are fixed
– Improvement by new photo effects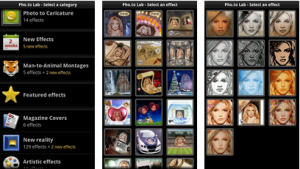 You can also add text of your own to the resulting image as a contact icon or wallpaper. Also you can save it to the phone memory or SD card. Share the photo as MMS or on Facebook and Twitter to surprise your friends.
Pro version of App: With the Pho.to Lab Android App Free version, new effects become available to you in two weeks after they are released. But that's not the case with Pho.to Lab PRO! Get all the brand new effects immediately after they are released! Pho.to Lab PRO does not contain any ads and does not watermark your resulting images. Besides, it comes with extra groups of photo effects for which you would have to pay in the standard version. The cost of pro version is Rs. 162 in India.
Pho.to Lab android app is a really easy and intuitive app for having hours of fun with your photographs. You can use photos stored on your mobile or tablet, or you can take a snap using the camera. This android app works perfectly for us on Samsung android tablet. The must try photo effects are "Avatar" and "Magazine Cover". The face detection feature worked perfectly fine when we tested it by clicking an image with a background. The simple and intuitive app interface helps you quickly learn how to use the photo editor. Almost a dozen of new photo frames and effects is added with each update.

Pho.to Lab Android App is one of the Best funny Photography Application for your android mobile or android tablet. This free android app was last updated on April 22, 2013 by the developer. The latest version of Pho.to Lab is 1.7 requires ANDROID version 2.1 and up to be installed on your android device. This app is currently in a trend in Android Market among Photography android apps and has 10,000,000 – 50,000,000 installations since it was launched.
This android app will require approx 4.0 M of free space on your device for installation. Pho.to Lab is rated 4.4 with 70,301 reviews in google android market at the time of writing this post. You can download this free android app from Google android market.