Create the coolest farm using this best android app by growing fruits and exploring with your friends! The smash hit social farming game for Android tablet and mobiles.
Papaya Farm is the awesome farming game where you can live your own agricultural fantasy. Join millions of Papayans already living the rural dream as you and your friends help (or harm!) each other to create the finest farm in the land.
**Grow crops and fruit**
Papaya farm features over 100 different kinds of crops and fruit to raise on your farm. Work hard and you may reap some super rare items!
**Tend your own ranch**
Rear your own animals and help your friends to look after theirs too. Features dozens of different animals including a super-secret mythical beast!
**Online Multiplayer**
Are you a good neighbor or bad neighbor? Help you friends create healthy harvests or be crafty and steal their crops!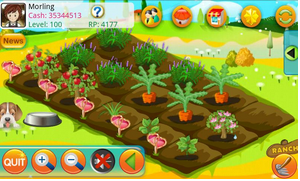 **Leader Boards**
Compare your score to everyone on your friend list and also compete for the best world ranking!
**Papaya Social Network**
By downloading any of Papaya games, you join a fun community with millions of worldwide Papayans. Not only can you play games with your friends but you can create your own avatar, send messages, join groups, share pictures, earn achievements, challenge your friends and finds loads of other awesome free games!
Permission to install app includes Allows application to send SMS messages. Malicious applications may cost you money by sending messages without your confirmation. What's New in Papaya Farm HD Android application :
– Added Voice Feature
– Use @ to mention friends in circle posts
Papaya Farm HD is the best android Android App available free for android tablet & mobiles and is last updated on January 10, 2012 and the latest version is 2.35 which requires ANDROID 1.5 and up. This is currently trending in Android Market under casual games android apps and already has 500,000 – 1,000,000 installations. The android app size is 12 M and is a free android app. This android app is rated 4.4 with 15,417 reviews in android market at the time of writing this post. Download this app from Google android market.