Out of Milk Shopping Android App is best android app for creating Shopping list, pantry list and to-do list in an intuitive and easy-to-use manner. Out of Milk is a best android app for your phone that will help you keep track of your shopping needs and your pantry's inventory, and manage your to-do list items. Out of Milk allows you to sync your lists with full-featured companion website.


You can also share your lists with other Out of Milk Pro users. It is easy to manage the items in your lists in Out of Milk. Add coupons, amounts, prices, and more to make sure your shopping list is as comprehensive as possible.
Feature of Out of Milk Shopping Android App
* Multiple shopping & to-do lists
* Scan or manually enter items in your shopping lists
* Plan grocery list
* Shopping list history remembers items
* Pantry lists let you inventory anything so you always know what's in your pantry
* Share lists by text or email
* Move or copy items between shopping list and pantry lists
* Displays grand total and running total on your shopping list
* View price history while editing a shopping list item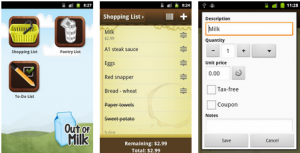 What's updated in various version of Out of Milk Shopping Android App :
– The old theme is back and it's FREE! To enable, go to Settings > Customizations > Themes and pick the 'Classic' theme.
– Lists open faster now.
– Fixed compatibility issues with newer Android versions.
– Fixed Preference crash for Polish and Spanish.
– Ability to customize currency
– Aisles/Categories , Barcode improvements and much more
Out of Milk Shopping Android App is one of the Best Android Application for shopping & grocery list management on your android mobile & tablet. This is a free android application is last updated on July 14, 2014. This app is currently trending in Android Market under shopping android apps and has 5,000,000-10,000,000 installations since its launch.
This android app is rated 4.6 with 90,875 reviews in google store at the time of writing this post. You can download this best android app.