Ninja Chicken Android Application is a very enjoyable game and full name of this android app is The Funky Chicken Who Thought He Was a Ninja. The game is as funny and enjoyable as the title.
Story-line of this android app : A terrible, most unfortunate accident has happened leaving our poor chicken with chicken dementia. This funky chicken now truly believes that he is a ninja and not just any ninja – the best ninja of them all! with the greatest powers ever bestowed on ninja before. chicken is now on a (dangerous) ninja quest to prove to all of the other chickens that he is indeed a ninja.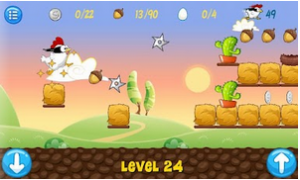 The controls of Ninja Chicken Android Application are incredibly simple. You're always running right, you jump with the right button, and slide with the left. If you hold the jump button, you jump higher, and if you press the slide button in the air, you'll fall faster. After every few levels another obstacle is integrated, including pipes that drop hay bales, cannons, holes in the ground, pitchforks, and cacti.
Features of this top android app:
– 30 challenging levels
– Dozens mission to complete to become a ninja
– Cool and unique graphics and music
What's in the latest version of Ninja Chicken Android Application:
– Performance Optimizations
– Reviving support on Magic/Hero/MyTouch 3G/MyTouch 4G devices
– Fix for the control and scrambled screen

Ninja Chicken Android Application is one of the Best Android Application for air fight on your android mobile. This free android application is last updated on March 28, 2012 by the developer. The latest version of this android app and size depends on the OS installed on your android device. This best android app is currently trending in Android Market under arcade & action android apps and has 5,000,000 – 10,000,000 installations since its launch. Ninja Chicken Android Application is rated 4.6 with 66,630 reviews in google android market at the time of writing this post. You can download this free android app from Google android market.