ngpay android app is the best android app to book Travel tickets, movie tickets and shopping – do it all from your mobile phone. ngpay is also the official mobile banking application for Axis Bank and HDFC Bank mobile Banking app. ngpay android app positions themselves as India's largest mall on mobile with 100+ stores. Book rail, air, bus tickets and hotels; buy movie tickets; shop and send gifts – right from your handset.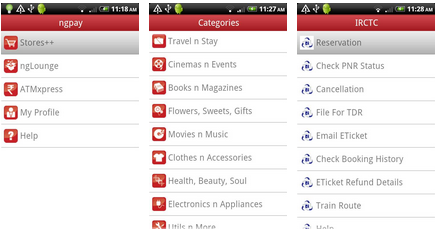 ngpay android app works on just about any mobile phone, from basic models to high-end ones. And across all mobile networks too. ngpay comes pre-loaded in a lot of phones. If you don't have it already, you can download it for absolutely free. In addition to meeting your travel, entertainment and shopping needs, ngpay android app provides you with a whole lot of other unique benefits. Every time you buy something on ngpay android app, you earn ngPoints. These can be redeemed against exciting deals and offers. So shop on ngpay android app and pile up those points – they really pay off.
On ngpay android application , you can find IRCTC for india rail info / train tickets; Jet Airways, GoAir, IndiGo, SpiceJet, Kingfisher Airlines for air tickets; PVR Cinemas, INOX Movies, Fame Cinemas, Cinemax, Fun Cinemas & BIG Cinemas for movie tickets and various other brands to shop on-the-go.
To pay for your transaction, ngpay android app offers you choice from a number of options.
You can pay using any of these:
• All VISA and Mastercard Credit Cards
• Diners Club Credit Cards
• Select Debit Cards
• Select Bank Accounts
• Cash Cards
Transacting on ngpay android app is as safe as an ATM transaction. ngpay provides 128-bit end-to-end financial grade security. Every time you have to make a payment for a transaction, you will need to enter your unique 6-digit PIN. This PIN number is NOT stored on your handset, so hacking your stolen phone will not put you at any risk.


Important : Since you use ngpay android app for purchase and payment using your credit card/debit card/bank account, this data is needed to comply with applicable KYC norms.
Updates in the latest version of NGpay android Application:
– New user interface.
– Compatible with all android version updates.
ngpay android app is the best android App available free and is last updated on April 3, 2013 and the latest version is 7.0 which requires ANDROID 1.6 and up. This is currently trending in Android Market under travel & local android apps and already has 500,000 – 1,000,000 installations.
The android app size is 501 K and is a free android app. This android app is rated 4.4 in android market at the time of writing this post. Download the latest version this best android app for free from android market.