MP3 Cutter Android App let's you cut the best part of your MP3 song and use it as your ringtone for Free.
MP3 Cutter Android App will let you cut the MP3 song and use it as your ringtone on your android phone. This android Apps would not work with the youtube downloader that download mp4 file and rename the extension as mp3 (it will show error code 2).
Updates in the latest version of MP3 Cutter Android App:
– Add ID3v1 tag (title, album, etc)
– fix the media scanner library
– Installation priority to external memory
– Update font size to music browser
– Song is stopped after the end cut time is set
– Show the song duration to music browser
– able to change the cut result location from SETTING
Important : The cut results are stored in "sdcard/media/audio/".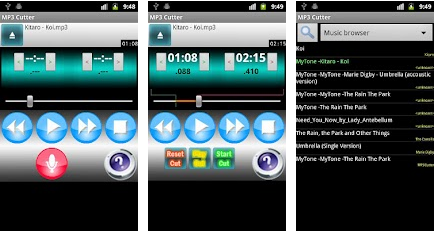 MP3 Cutter Android App is one of the Best Android Application for cutting MP3 files on your android mobile. This free android application is last updated on July 15, 2013 by the developer. The latest version of this android app is 2.2.1 and requires ANDROID version 2.0.1 and up and up to be installed on your android device.
This best android app is currently trending in Android Market under media & vedio android apps and has 5,000,000 – 10,000,000 installations since its launch. This android app will require approx 492 k of free space on your device for installation. This free android application is rated 4.4 with 21,504 reviews in google android market at the time of writing this post.
You can download this free android app from Google android market.