Mini golf… but maxi fun! Download this best android app to play a interesting game of golf on your android mobile.

This a funny and addictive golf game android app. Swipe your finger to shot the ball, use shortcuts to reach the hole faster, but be careful at traps and other hazards ! Compete against other players with challenges.
Features of android app :
– Use built-in course designer to create, play and share your own golf courses
– Browse hundreds of community contributed maps
– Collect as most achievements as possible
– Unlock new courses using coins
Mini Golf Android Application comes with several play mode:
– play individual courses and compare yourself to other player through online scores
– play challenges against other player
– or enter tournaments and win the grand prize
This is the free version of android application with two golf courses, 27 full holes. More courses can be downloaded later with coins you earn for good scores, challenges and tournament !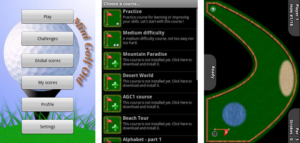 Mini Golf Android Application is the best android App available free and is last updated on October 8, 2012 and the latest version is 4.7.1 which requires ANDROID 1.5 and up. This is currently trending in Android Market under arcade & Action android apps and already has 1,000,000 – 5,000,000 installations. The android app size is 2.5 M and is a free android app.
This android app is rated 4.0 by 10,741 reviews in android market at the time of writing this post. Download this app from android market.