Download this best android app and America's most useful and respected dictionary. In addition to all the definitions from Merriam-Webster's Collegiate Dictionary, this app offers voice search – to let you look up a word without having to spell it – along with synonyms, antonyms, example sentences, Word of the Day, and more. It's a great tool for reference, education, and vocabulary building.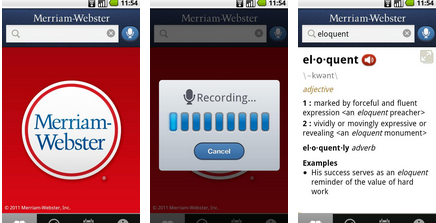 The android app is free, and supported by ads.
This android app features:
* Synonyms & Antonyms
* Voice Search
* Example Sentences
* Audio Pronunciations
* Word of the Day
* Reader View – lets you hide navigation buttons to see text in full screen
* Recent History – lets you keep track of the words you've looked up
The app offers many great features on Android devices:
Voice search – A much quicker way to look up a word than typing it on your phone. It also beats out Google's voice search if you're looking up multiple words as you don't have to click through the Google search results. Also great in those instances when you have no idea how a word is spelled.


Offline access – Those of us who write for a living and work in the boonies or on planes without Wi-Fi need to have continuous access to a dictionary even if we can't get online. This app gives you ready access to the complete Merriam-Webster English Dictionary. More than just a dictionary – In addition to merely looking up words, this app also contains synonyms, antonyms, example sentences, and a Word-of-the-Day feature.
What's in this version of Merriam Webster Dictionary App:
This version contains over a thousand new and enhanced entries, including definitions for recent words like "crowdsourcing" and "robocall."
* Over 800 new and enhanced entries, including definitions for recent terms like "bucket list," "gastropub," and "cloud computing"
* Optimized for tablets, with Scrolling Index for browsing the dictionary
* Fixed content, display, and audio playback errors
Merriam Webster Dictionary app is a free android app is last updated on April 11, 2014 and the latest version is 3.0.3 which requires ANDROID 2.3.3 and up . This is currently trending in under Brain & Puzzle android apps and already has 10,000,000 – 50,000,000 installations. The android app size is 27 M and is rated 4.6 by 64,421 reviews. Download the latest version this best android app for free or visit official android app page.