Download musiXmatch Lyrics & Music player and deep dive into the world of song lyrics. This best application comes loaded with one of the largest and most exhaustive official catalog of song lyrics. With more than 6 million lyrics in 20 languages you will never run out of music on move.
Features of Lyrics & Music Android Application :
♫ Lets you identify UNLIMITED Lyrics with powerful MUSIC ID
♫ Enahnced Music Player with Playlist management
♫ Instantly search for songs by Title, Artist Name, or Lyrics Phrase!
♫ Add all your lyrics to your favourite list!
♫ Provide quality feedback for any lyrics.
♫ Share single phrase on Twitter, Facebook and foursquare
♫ Profanity filter
♫ One click to get full artist discography
♫ Lyrics available offline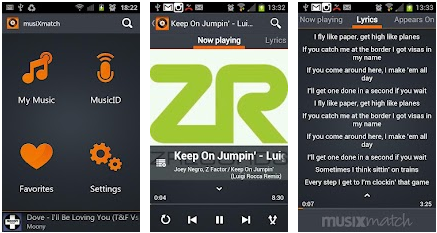 Updates in the latest version of this android app includes:
– Headset settings changed
– Fresh new UI restyle for the player
– Full screen Lyrics
– Added 2 more lyrics views: "Appears on" and "Discography"
– Fixed all bugs related to Headset control
– Most of notifications bugs now solved
– Added support for layout xlarge
– Added auto-share event after MusicID
– Now with G+ Sign in and Instagram Share
– Tour UI
– Tag fixing (album, title, etc)
– MusicID improvement and bug fixing
musiXmatch Lyrics & Music Android App is one of the Best Android Application for music library on your android mobile. This free android application is last updated on August 7, 2013 by the developer. The latest version of this android app is 3.0.9 and requires ANDROID version 2.1 and up to be installed on your android device.
This best android app is currently trending in Android Market under Music & Audio android apps and has 5,000,000 – 10,000,000 installations since its launch. This android app will require approx 5.6 M of free space on your device for installation. This free android application is rated 4.3 with 100,486 reviews in google android market at the time of writing this post.
You can download this free android app from Google android market.