TV.com is the best android app that brings personal TV to your phone on WiFi and cellular networks. If you're familiar with U.S. television channel then you'll be familiar with it show lineup and maybe subsidiary channels.
Get access to those episodes while mobile with virtually no commercial breaks. Access the videos you want anywhere you go including full episodes…and it's free! Get video from CBS, The CW, CNET, ET, Showtime, CBS News, CBS Sports and much more! Watch your favorite shows anywhere, anytime on your android device. No subscription fees apply.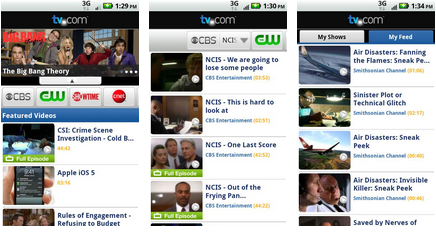 All this for free, no monthly or annual subscription fees for this best android apps. When viewing most shows, you can browse and skip chapters like DVD menus, plus read show information like interactive TV guides. Recent changes:
– Faster!
– New Design
– Improved Layout
– All Full Episodes Now Available Over 3G
The home screen of TV.com offers you currently featured episodes along with a tool bar of all the available networks that offer clips/full episodes. There is a tab for full episodes only if this is what you're after. Here is an abbreviated list of popular shows that offer full episodes.


This is a free android application is last updated on May 10, 2012 by the developer. The latest version of this android app is 1.9 and requires ANDROID version 1.6 and up to be installed on your android device. This app is currently trending in Android Market under entertainment android apps and has 5,000,000 – 10,000,000 installations since its launch.
This android app will require approx 1.1 M of free space on your device for installation. This android app is rated 3.8 with 44,757 reviews in google android market at the time of writing this post. You can download this free android app from Google android market
TV.com is published by CBS Interactive, which also owns CNET Download.com. The application can directly be downloaded from Cnet and installed on the registered Android device from your PC.