Download these free android apps for cricket for your android phone and tablet PC now and enjoy the world of cricket on the move.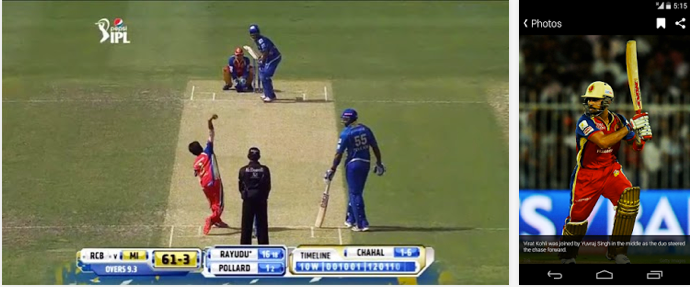 ESPNcricinfo Cricket App : The new ESPNcricinfo app offers push notifications, a unique Lean Back mode functionality and much more. Full feature list includes Live game coverage – Commentary, scorecard, match graphics, photographs, reports and player profiles from every international game. 'Lean back' mode – Switch the app to lean back mode, place your phone on your table and follow live scores throughout a busy work day. Push notifications – Get instant alerts for wickets, batsman milestones and score updates during live matches.

Cricbuzz Application for Android : Get the fastest cricket score updates and ball-by-ball commentary available on the web via CricBuzz directly on to your Android. If you can't be at the match live, CricBuzz's commentary is definitely the next best thing to experience. Cricbuzz Android App is the Best Android Application for live cricket score on your android mobile. Fastest cricket score updates and ball-by-ball commentary via CricBuzz.With an intuitive interface that makes browsing easier than it has ever been, find scores, commentary and news for all Test matches, ODIs, Twenty20 Internationals along with all prominent series.

Cricscoredroid Android App : CricScoredroid promises to be simple and fastest in android market. It is shows current cricket matches with current score, results and fixtures, It also includes Audio Commentary and home screen widget. Also includes comprehensive Scorecard.

NDTV Cricket Application for Android : The official NDTV Cricket app provides live coverage of all forms of cricket The official NDTV Cricket app provides live coverage of international and domestic cricket (Test, ODI & T20) along with latest News, Photos and Stats.
gocricket – Watch IPL 2014 : GoCricket brings you all the action from Pepsi IPL 2014 straight to your android device! Now WATCH matches on the go, track live scores, follow news, watch highlights and a lot more -IPL schedule, Points table, Orange/Purple Cap stats – Top speed scorecard and ball-by-ball commentary – In-depth coverage and analysis from the world of cricket – Best in class photos optimized for your device