Lane Splitter Android App is a fun, simple, old school arcade android application. This best android app was concieved from dealing with the daily commute in San Jose on a motorcycle.
Lane Splitter android app is a fast-paced arcade action game where your reflexes will mean the difference between either surviving or crashing in spectacular fashion. Ride your sport bike at insane speeds through ever changing traffic. Keep an eye out for careless drivers and avoid vehicle blind spots. Easy to learn but hard to master. Do you have what it takes to reach "TOP SPEED".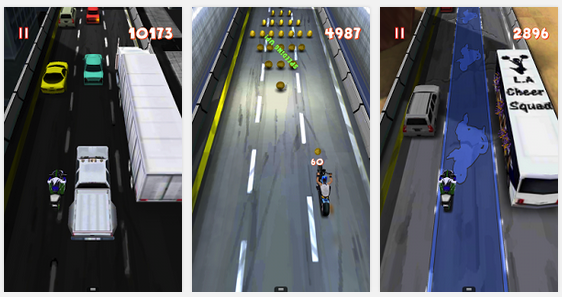 The Lane Splitter Android App by fractiv is a an accelerometer based motorcycle racing game where the object is to get as far as you can without crashing. As you drive along the road you will need to maneuver through traffic while maintaining control of your motorcycle. Each car that you successfully maneuver past will give you some points. You will also gain points by performing a wheelie for as long as you can without crashing. When you finish your wheelie a time in seconds will be displayed and the number of points that you get for it.
GAMEPLAY FEATURES
* Ridiculously addictive gameplay
* Simple and streamlined game design reminiscent of old school arcade games
* Beautifully rendered 3D environments that change every day you play
* Global leaderboards
* Facebook integration: compete with your friends for top score and post brags to your wall
* Awesome realistic sound effects recorded from a real sport bike!
HOW TO PLAY Android APP
– Tilt the phone to steer left and right
– Stay away from cars and walls
– Hang on for dear life!
– Tap and hold the screen to do wheelies (the longer you hold it, the more bonus points you get for each car passed)
– Pick up "Lane Splitter" bonuses by navigating your way in between cars during heavy traffic areas
– Compete for best wheelie times with your friends and the world by viewing the "Longest Wheelie" score boards from the main menu

What's new in the latest version of Lane Splitter Android App:
– COINS! Pick them up to buy awesome items and unlock characters in the store, including a HELMET to protect you from one crash, and a pack of DONUTS to bribe the cops with.
– New character Joey Heavens. Rock star Joey has 50 thousand fans and a really upset band waiting for him. Luckily Joey has an ultra smooth chopper to get him there.
– Improved loading times on some devices.
Bonus Tips for Lane Splitter Android App
– Pick up "Lane Splitter" bonuses by navigating your way in between cars during heavy traffic areas
– Compete for best wheelie score by holding the screen to wheelie while playing as Jake or Jonny
– If a cop is on your tail, get 500ft away to evade him, or buy some donuts to bribe him
– Buy a helmet to protect you from one crash
Lane Splitter is one of the best android Android App available free and is last updated on July 31, 2013 and the latest version is 4.0.4 which requires ANDROID 2.0.1 and up. This is currently trending in Android Market under arcade games android apps and already has 5,000,000 – 10,000,000 installations. The android app size is 23M and is a free android app.
What's in this version:
– Lane Splitter 4.0 is here!
– New character Krypton. Will you use his powers for good or evil?
– Boost items. Use a Mini Boost to give your motorcycle rocket speed and invincibility for 10 seconds.
– Four unique new upgrades: Special Coins, Magnet, Swagger, and Luck. Earn more coins and points by upgrading.
This android app is rated 4.4 with 59,356 reviews in android market at the time of writing this post. Download this app from Google android market.