Download ICQ Messenger Android App and send SMS to free chat with all your friends. ICQ Messenger Android App lets you chat for free with all your friends, including address-book contacts, ICQ, Google Talk, Facebook, AIM and Mail.ru friends.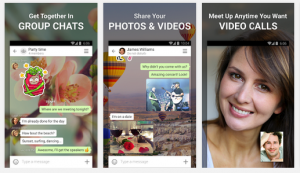 ICQ Messenger Android App is available in English, German, Russian, Bulgarian, Czech, Chinese and Portuguese. This android app supports Android OS 2.x and 3.x phones and tablets. You can access ICQ Messenger from any platform: PC, web, android mobile phones or android tablet. Download and use ICQ to chat with your friends wherever they are anytime anywhere!
Key features of ICQ Messenger Android App
– Send and receive FREE unlimited messages.
– Automatically find phone contacts already in the network so that you can send each other free messages.
– Chat with Facebook, Google Talk, AIM, Mail.ru friends directly from your mobile phone.
– Receive push notifications (C2DM) with an instant reply pop-up, so you can stay available for chat anytime.
– Get social feeds from ICQ, Facebook, Twitter, YouTube and Flickr.
– Have threaded messaging and history.
– Enjoy HD display support.
— Send instant messages to your friends on Facebook and Google+.
— Capture the brightest moments of your day on photos and videos and share them with your ICQ friends.
— Remind friends where you're meeting or tell them about a new café – share your location directly from ICQ.
— Start using ICQ – login with your phone number or social network account.
Updates in the latest version of ICQ Messenger Android App :
– You can now view your profile and edit it.
– Share Videos with all your friends.
– Improved share location.
– Change the group from within the contact list
– Personalized sounds
– New easy Interface
– New Gallery
– Use Emoji while chatting
– Send several photos at one time
– Adjust application sounds
ICQ Messenger Android App is one of the Best Android Application for chat on your android mobile. This free android application is last updated on 26 August 2014 by the developer. This best android app is currently trending under free android apps for chat and has 10,000,000 – 50,000,000 installations since its launch.
This android app will require free space on your device for installation depending on the OS installed. This free android application is rated 4.2 with 295,364 reviews. You can download this free android app from Google android market.