History eraser is the Best android app to Erase History on Android devices. Download this app now and save precious space. This is a phone cleaner History Eraser! One touch cleaner!


This app can erase history data on your Android device, cleanup your phone, delete your search history, del web history,remove your calllog, clear all apps' cache files, delete sms, clean your clipboard, clear frequently callded, and erase market search history.
Feature of History Eraser Android App :
-Clear Browser History
-Clear Call Log
-Clear text messages
-Clear Market Search History
-Clear Google Map Search History
-Clear Gmail Search History
-Clear Clipboard Data
-Clear Youtube Search History (assist)
-Clear Google Search History(Android >= 1.6) (assistance)
-Clear all app cache files
-Clear Frequently Called (Frequently Contacted)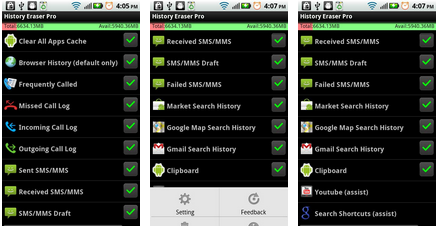 By using setting menu, you can alse choose not to del sms/mms when screen off or you can choose not to delete locked/protected SMS/MMS. The interface of this app is as simplistic as its functionality. Check the histories that you'd like to clear and tap the "clean selected" button.
History Eraser Android App is the Best Android Application for Productivity on your android mobile. This free android application is last updated on July 12, 2014. This app has 10,000,000 – 50,000,000 installations since its launch and is rated 4.6 with 170,453 reviews. Download this free android app