Hindu Calendar Android App is useful android app to have easy access to hindu calender. Hindu Calendar Android App also shows the date of hindu festivals and allows to add the festivals in your calendar on android mobile. Diwali (Deepawali), Chhath, Karwa Chauth, Holi, Maha Shivaratri, Ramnavami, Rakshabandhan etc.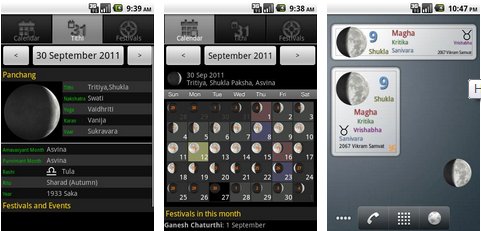 Hindu Calendar Android App can convert any Gregorian date to Indian Lunar date. This best android application uses Indian National Calendar (Saka), displays panchang, tithi (date) along with paksha (shukla and krishna), yoga, karana, nakshatra and vaar (day of week). You can also view the hindu year, month (purnimant and amavasyant), zodiac of moon and the ritu (Season).
Features of Android App :
– Get detailed panchang view
– Complete makeover of navigation. Action Bar added.
– Zoom Buttons and pinch zoom for tithi view and jyotish view.
– Griha (Planet) Positions and rise set times
– A monthly Calendar view highlighting the Ekadashi, Chathurthi, Poornima and Amavasya.
– Save and track your own tithis.
Updates in the latest version of android app:
– Added Option for Vikram Samvat and Saka.
– Added Highlight for selected Date.
– Fix for dhanu rashi image on widget.
Hindu Calendar Android Application is the Best Android App for hindu calendar on your android mobile. This is a free android application is last updated on October 17, 2012 by the developer. The latest version of this android app is 4.0 and requires ANDROID version 1.5 and up to be installed on your android device. This app is currently trending in Android Market under books android apps and has 1,000,000 – 5,000,000 installations since its launch.
This android app will require approx 1.9M of free space on your device for installation. This android app is rated 4.6 with 6,467 reviews in google android market at the time of writing this post. You can download this free android app from Google android market