Download the official Hindi app of HDFC Bank for Android. HDFC Bank MobileBanking in Hindi gives you access to your account on your Android phone.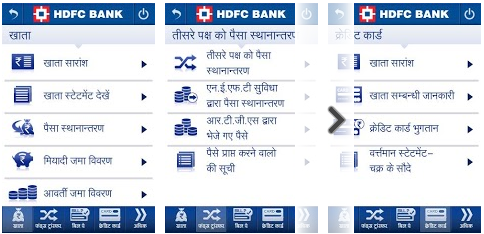 एचडीएफसी बैंक मोबाईलबैंकिंग से आप अपने खाते को कहीं से भी अपने ऐनड्रोइड फोन के द्वारा संचालित कर सकते हैं. इसके द्वारा घर बैठे हीं आप अपनी सारी बैंकिंग ज़रूरतों को पूरा कर सकते हैं.
Features of HDFC Android App in Hindi :
– Pay utility bills, credit card bills, etc.
– क्रेडिट कार्ड बिल तथा अन्य माहवारी बिल जैसे फोन इत्यादी का भुगतान कर सकते हैं.
– View Account summaries and Fixed Deposit summaries
– खाता तथा मियादी जमा का विवरण देख सकते हैं.
– Transfer funds ,including transfers to other bank customers
– एचडीएफसी बैंक तथा अन्य किसी बैंक में भी पैसा स्थानान्तरण कर सकते हैं.
– Request statements, cheque book, stop payment
– स्टेटमेंट, चेक-बुक, स्टॉप-पेमेंट के लिए अनुरोध तथा अन्य कई कार्य भी कर सकते हैं.
HDFC Bank Android App in Hindi is one of the Best Android App for banking your android mobile. This free android application is listed under finance apps in Google Android Market. The app has 1,000 – 5,000 downloads since its launch. The latest version of this android app (version 1.0) was released by the developer on September 1, 2012.